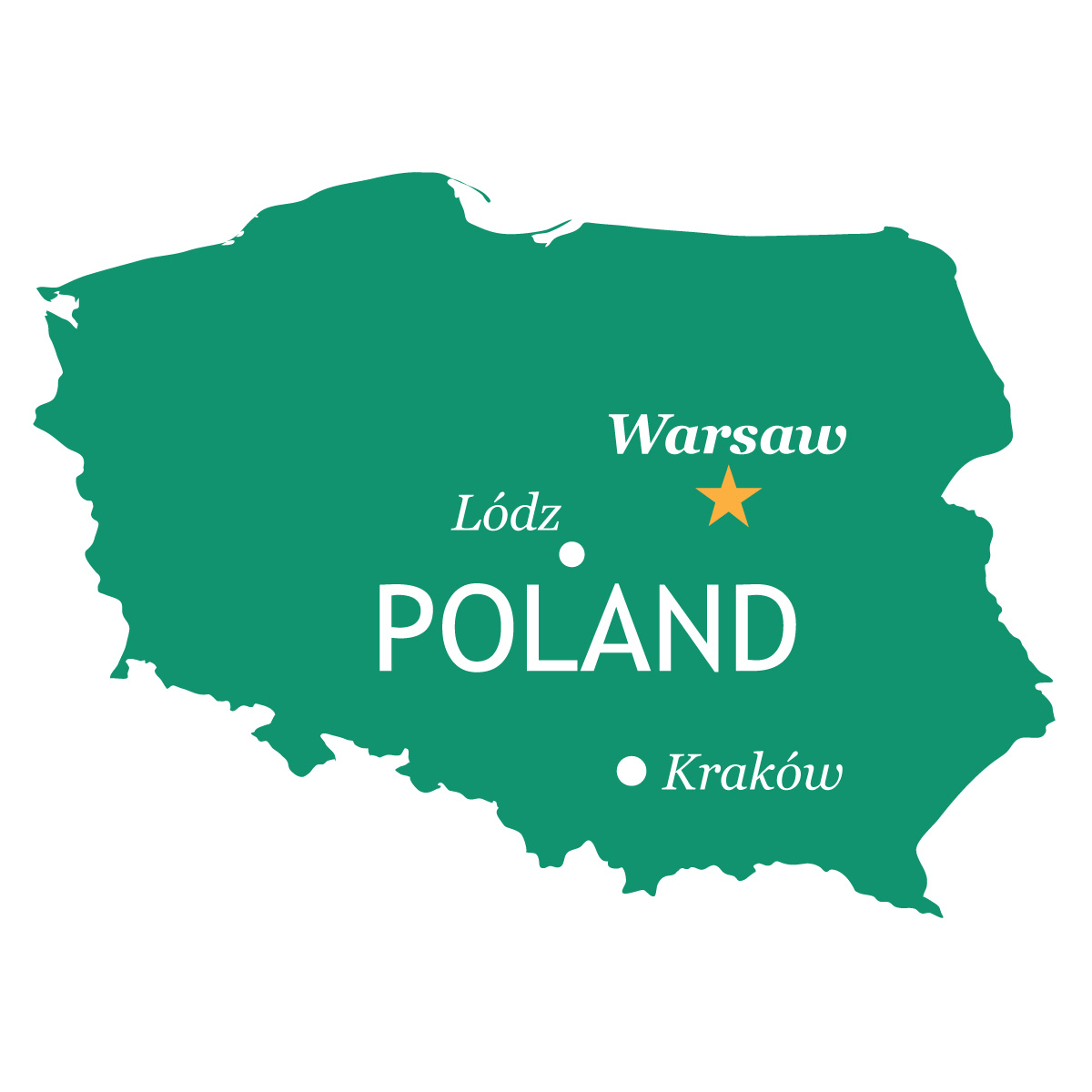 Poland
Located in the northern part of Eastern Europe, Poland's cuisine is a blend of traditional dishes mixed with influences from neighboring countries. Grab your kids and let's learn about Poland!
QUICK STATS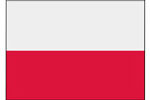 120,700 sq mi (312,600 km sq)
Centrally situated on Europe's peninsula. Bordered by Ukraine and Belarus on the East, Czech Republic and Slovakia to the South, Germany on the Western border, and Lithuania to the Northeast.
A brief history for kids to learn about Poland
In the early centuries AD, there were many tribes living on what would later become Polish soil. Among them were Celtic, Baltic, and Germanic people groups.
Slavic tribes arrived around the 6th century (500s AD), and of those, the Polania tribe eventually became the most dominant in the region.
Historians believe the leader of that tribe, Piast, united the tribes and named the land Polska. However, it was not until the year 966 when the ruler, Duke Miesko I, converted to Christianity, that the Polish nation was officially recognized.
In 1569, Poland signed the Union of Lublin with the Duchy of Lithuania, forming the Polish-Lithuanian Commonwealth. This became one of the earliest recorded constitutional representative governments in Europe.
In the late 18th century (1700s AD), Poland was unable to withstand invading armies of the Russian Empire, the Kingdom of Prussia, and Austria. As a result, those three countries partitioned Poland's land between them. By the end of the First World War, Poland was finally able to win independence from these powers.
It sustained that independence as the Second Republic of Poland until the Nazis invaded in 1939. Though the Polish contributed to the Allies' victory in WWII, they did not experience the same freedom. The Red Army annexed Poland as a Soviet state.
Finally, in the late 1980s, the Polish were able to negotiate with the communist government and take radical steps to restructure. As a result, the modern-day Republic of Poland was born. The democratic government formed during this era of change still exists today.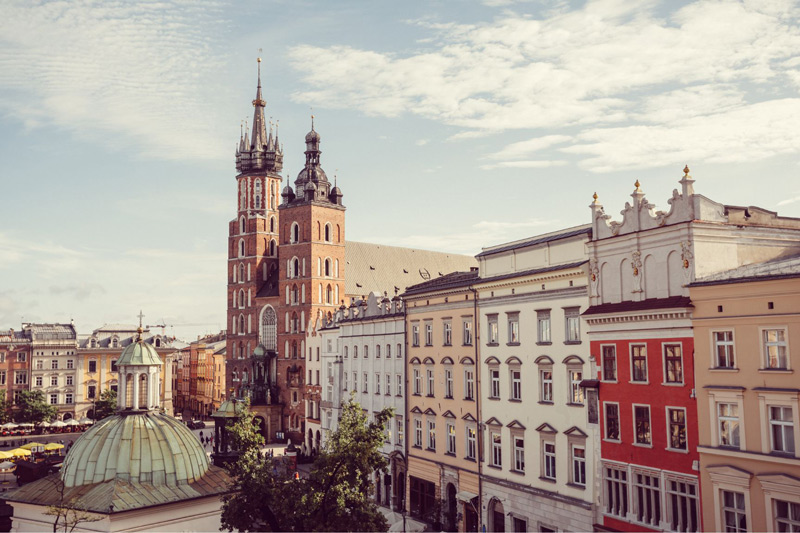 Fun facts about Poland for kids
There are 32 letters in the Polish alphabet.
Europe's heaviest animals live in Poland.
The Polish celebrate the day after Easter Sunday as Smigus Dyngus, or Wet Monday. All throughout the day, people throw large amounts of water at one another in the street.
Polish food
The Polish diet is heavy in meat and proteins and features abundant use of cabbage, mushrooms, and root vegetables.
Some popular dishes are entwined with Catholic celebrations, and others simply evolved from an abundance of local ingredients.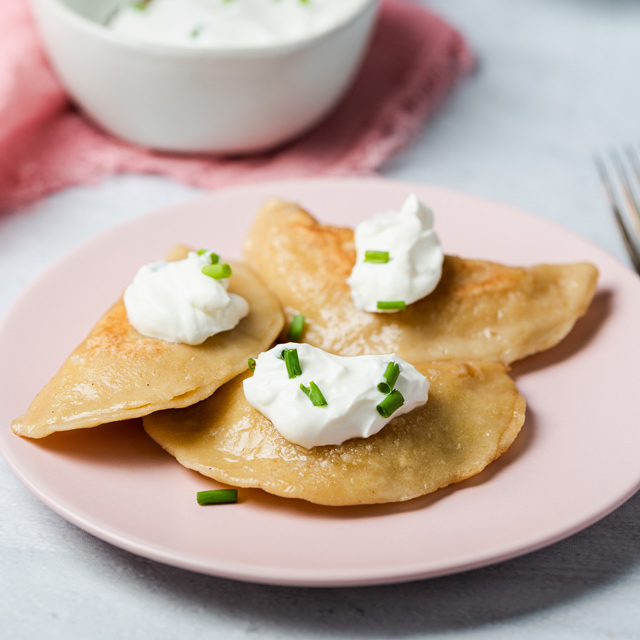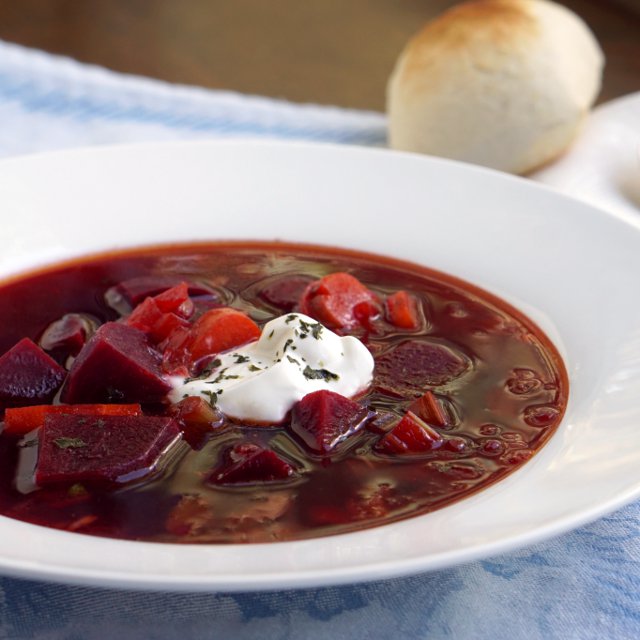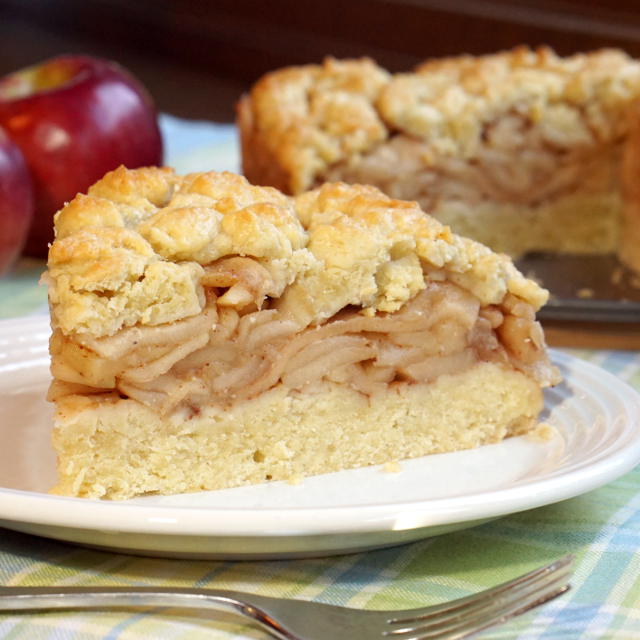 What do the Polish eat? Mealtime in Poland.
Polish people eat four to five meals every day. There is no real lunch in Poland, but rather a very substantial "dinner" in the midafternoon followed by a lighter and less involved "supper" served later on in the evening.
Breakfast (sniadanie)
The Polish generally eat breakfast whenever they wake up, usually, around 8 am. The meal consists of meat or eggs and often dairy, like cheese or kefir (a fermented dairy drink). They may serve pastries, like nalesniki, which are delicate Polish pancakes, similar to a crepe.
Morning Snack (drugie sniadanie)
Quite literally, 'second breakfast'. The Polish usually eat this around 10:30 to 11 am. It is a smaller meal and is often eaten on the go in the midst of a workday or by children during school hours. As such, people usually enjoy foods that are easy to carry, like hard-boiled eggs, smoked sausage, or sandwiches.
In Poland, they often serve sandwiches open-faced (like zapikanka or kanapka), with either eggs, sliced meat, or sausage, like kielbasa. They often top them with salatka (salad) of cucumber or cabbage. These sandwiches are so popular that street vendors serve them from small hut-style restaurants in urban areas.
Dinner (obiad)
This is the most substantial and important meal of the day. The Polish typically serve dinner in three courses. And it takes place between noon and 4 pm.
Usually, it begins with a soup, like a tomato, borscht (beet), rosol (broth), or zur (sour rye soup). Then they serve a side dish, consisting of salad, cooked vegetables, or pierogi (dumplings filled with potatoes, cabbage, mushrooms, or meat).
The main course would be next. This is a hot and hearty dish like golabki (cabbage rolls) or meat stew. Bigos is a traditional favorite stew made of sausage and sauerkraut. Another is gulasz, a stew of meat, vegetables, noodles, and spices.
Supper (kolacja)
Supper is eaten later in the evening, from 5:30 to 8 pm. This is a lighter, smaller meal where the sandwich often makes an appearance again. Cold meats, cheeses, and vegetables are often a part of this evening meal.
They may serve cabbage rolls or soups but generally in smaller portions than midday obiad.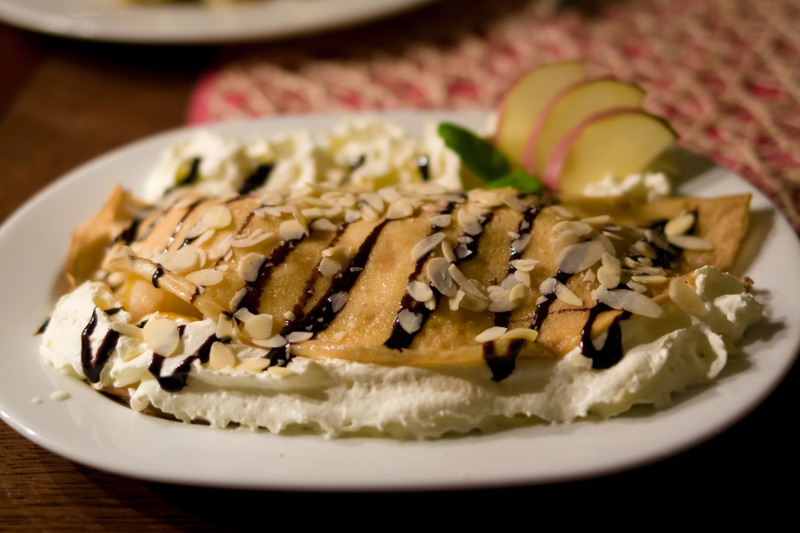 Food etiquette in Poland
The Polish consider lateness to a dinner party extremely rude, and they expect that a guest would arrive early.
When one would greet the host and fellow guests, he or she should be careful to keep his hands out of his pockets. This is also considered impolite when speaking to anyone.
In Poland, it is common courtesy for no one to begin eating until everyone is seated and has food on their plates. The host of a dinner party signals the time to start eating by saying "Smacznego!".
While eating a meal in Poland, one would keep their knife in the right hand, and the fork always in the left. Oftentimes spoons are missing from the place setting entirely. If this is the case when the soup is served, one simply lifts the bowl to his mouth and drinks it.
Polish food by region
Poland is generally divided into 16 provinces. Each region has its own characteristics and cuisine. If you're learning about Poland with kids, it may be helpful to take a look at a few or divide the country into more general regions. We have taken a look at a few below.
Pomorze and Kaszuby (Pomerania and Kashubia)
In this region located on the seaside, many dishes include fish, especially herring which the people love pickled in vinegar. Kashubian fish soup with lemon juice and vegetables is also very popular.
Podlasie (Podlachia)
On the Eastern side of Poland, Podlachian dishes are heavily influenced by Lithuania and west Ukraine nearby. The dishes heavily feature mushrooms and also potatoes. They commonly serve potato dumplings, stuffed with meat.
Here they make some abundant forest fruits into drinks with boiled sugar water, called kompot.
Wielkopolska (Greater Poland)
On the western side of Poland, potatoes are a dietary staple. The most famous dish is a potato dumpling filled with meat and sauce, known as pyzy.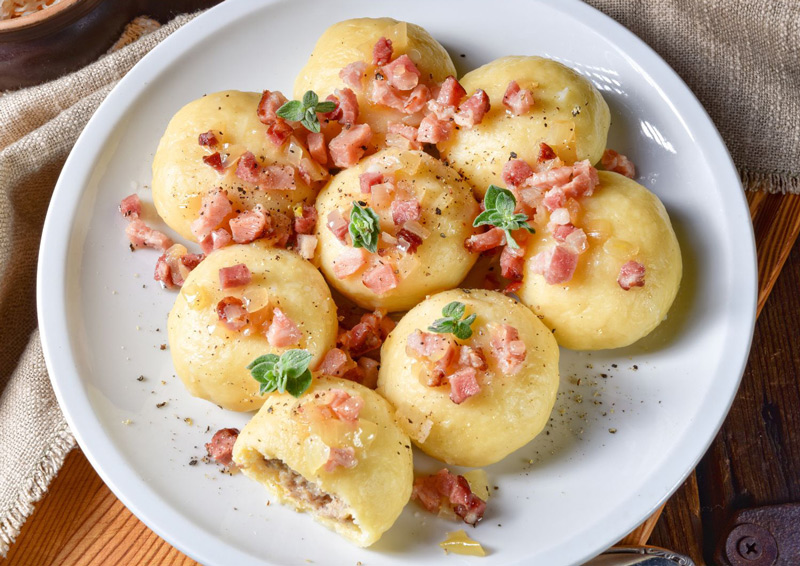 Holidays in Poland
Discussing holidays is a great way for kids to learn about Poland. Some may be familiar, but the way they celebrate them may be new. Maybe you can find a new tradition for your family!
Independence Day (Narodowe Święto Niepodległości, November 11)
On November 11, Poland commemorates its independence from the German, Russian, and Austro-Hungarian empires. The Polish celebrate this day with parades and parties, and bakeries make traditional St. Martin's croissants. These consist of puff pastry and poppy seeds and are generally served glazed.
Christmas (Boże Narodzenie, December 25)
Christmas is a very important holiday to the Polish people. On Christmas Eve (Wigilia), families traditionally make twelve dishes that they will eat after the evening Mass. They make these dishes to satisfy superstition, so there will not be a shortage of any of the foods in the coming year.
While some of the twelve may vary from household to household, they nearly always serve carp, as well as mushroom and cabbage pierogi. Borscht with mushroom dumplings (barszcz czerwone) is among the common Christmas dishes. As is challah and delicious sernik, a polish cheesecake. Most importantly, they share the oplatek wafer among everyone at the table as a sign of reconciliation and forgiveness.
Mardi Gras / Fat Tuesday (Ostatki, date varies)
Elegant balls in the city and wealthy areas, or big parties in the countryside, have historically been part of the Polish carnival season. While the cuisine varies somewhat by gathering, jelly-filled donuts called paczki are always present.
Easter (Pascha, date varies)
Most of Poland's population identifies as Roman Catholic, and as such the day celebrating the resurrection of Jesus Christ is the biggest Holiday of the year.
Before Easter arrives, many families prepare an Easter basket. Families fill these baskets with butter, meat and grains, and eggs (called pisanki). They boil the eggs and decorate them first with colored dyes made from onion skin and rhubarb, and then with intricate designs. The family takes the basket to the church to have it blessed by the Priest.
On Easter Sunday, families serve a big meal of meat, sausages, white borscht soup, babka cake, and the blessed eggs.
The day after Easter is also a family holiday, known as Wet Monday. People run through the streets pouring water on each other!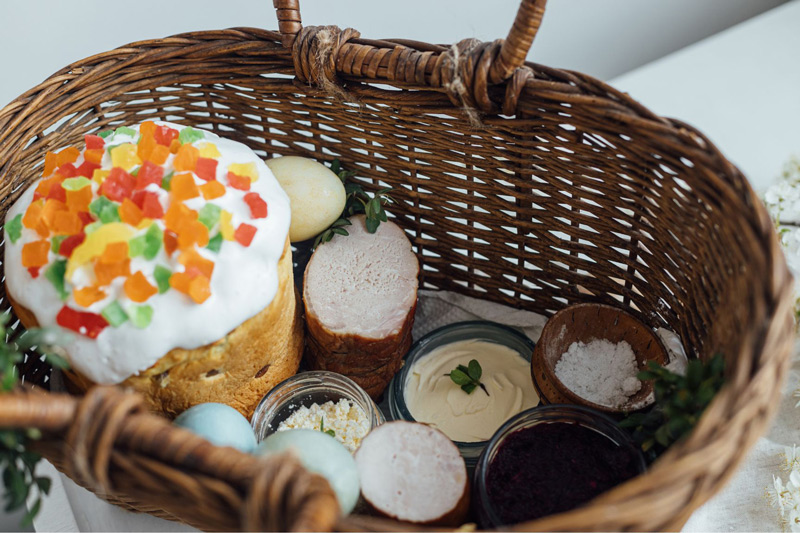 At-home ideas for kids to learn about Poland
As a part of your homeschool Poland unit study or as a supplement to your child's Poland unit at school, try some of these ideas at home!
Make your own dyes from onion skin, beets, or cabbage, and dye hard-boiled eggs. Or you can print up Easter egg templates and try your hand at drawing some of the intricate traditional designs.
Learn to make nalesniki or Polish apple pancakes and have a Polish breakfast.
Have your own Wet Monday celebration and bring the neighbors over for a fun afternoon of water wars!
Use Language Drops to learn a few words in Polish or Word Hippo to look up the pronunciation of specific words.