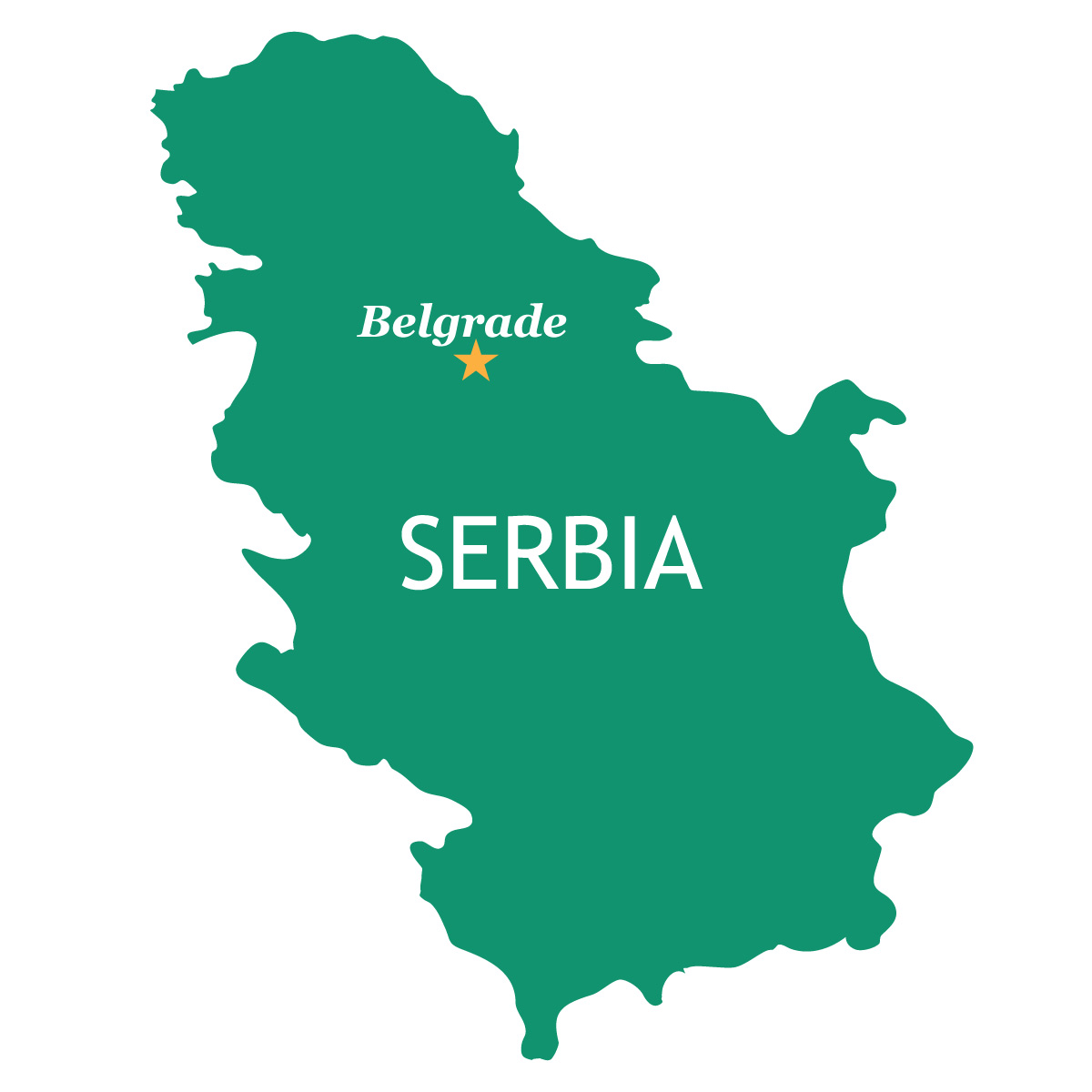 Serbia
Located in the Balkans region of Eastern Europe, Serbian cuisine has ancient roots with many cultural influences through the ages. Grab your kids and let's learn about Serbia!
QUICK STATS
Republic of Serbia (Република Србија [Republika Srbija])

34,100 sq mi (88,300 sq km)
Located in Eastern Europe and bordered by Hungary and Romania to the north, Bulgaria to the east, North Macedonia and Kosovo to the south, Montenegro, Bosnia and Herzegovina, and Croatia to the west.
A brief history to learn about Serbia
The earliest people groups recorded on Serbian soil are the ancient Thracians, Dacians, and Illyrians.
Alexander the Great invaded the area in the 4th century AD. Eventually, it became part of the Roman Empire.
Slavic tribes, including the Serbs, arrived on what is present-day Serbian soil around the year 600 AD.
In the year 1170, the Kingdom of Serbia was officially founded and expanded in power and territory over the next several centuries.
The Ottoman Empire conquered the kingdom of Serbia in 1389. The country remained under Ottoman rule until the 1800s.
In 1876, per the Congress of Berlin, Serbia became an independent country.
During World War I, the Austro-Hungarian army occupied Serbia. And after the war, Serbia was divided and eventually renamed Yugoslavia.
After World War II, the country endured years of struggle under Communism and then civil war. This resulted in poverty, instability, and eventual genocide under president Milosevic who rose to power in 1989.
Today, recovery from the difficult years is well underway, and Serbia is regaining stability.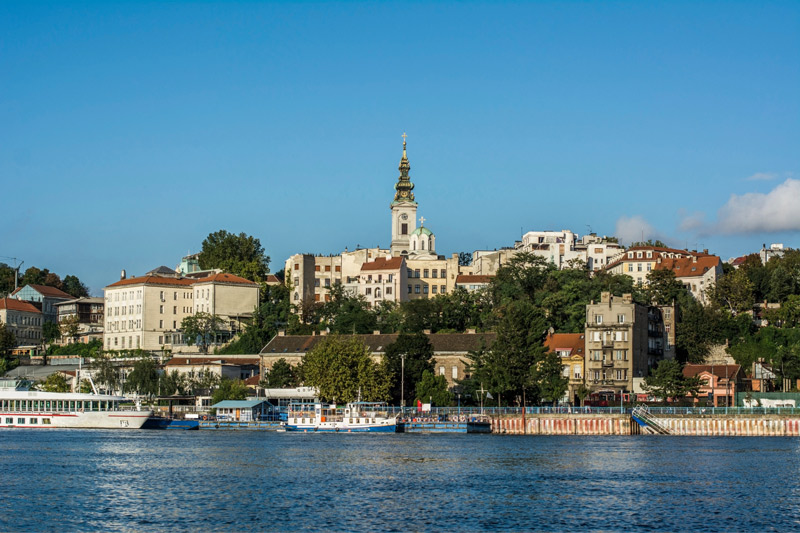 Fun Facts about Serbia for kids
Serbia is the second-largest exporter of raspberries in the world
The most expensive cheese in the world is made in Serbia – out of donkey milk.
Serbia is home to a village made entirely of stone.
Serbian food
Serbian food is a rich blend of traditional recipes and styles originating from many nations.
The influences of Greek, Hungarian, and Turkish (Ottoman) cuisine, along with that of the other nearby Balkan nations, have been brought together over years of history to form a style all Serbia's own.
Meat, dairy, vegetables, and dough are central to many time-honored favorites.
It is a common practice for Serbian people to prepare most of their food from scratch. This includes broths, jams, juices, and other pantry staples. Food preparation is often painstaking and patient work, but the kitchen is the heart of the home in Serbia. Cooking is a labor of love.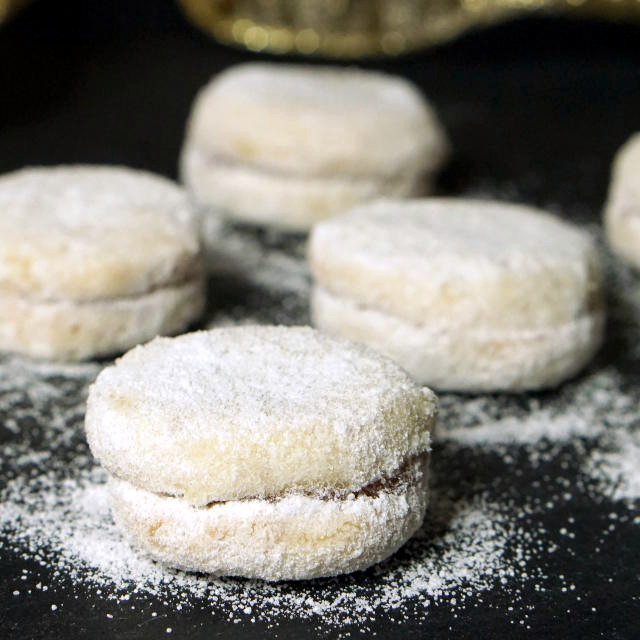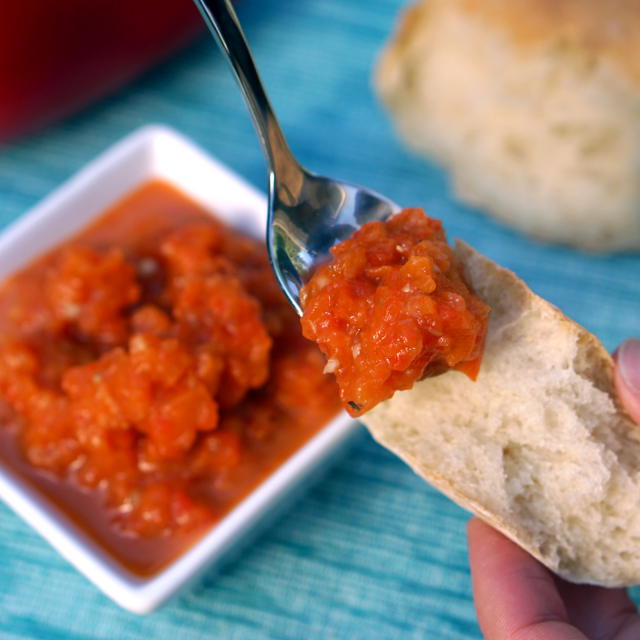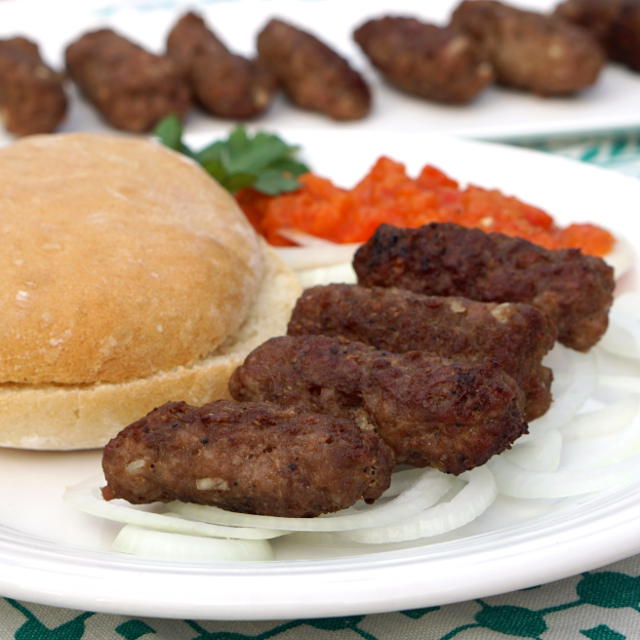 What do Serbians eat? Mealtime in Serbia.
Serbian people eat three meals a day, but that is common starting in the late 19th century. Before that, most people in Serbia only ate two meals (breakfast and a larger, late lunch). Many of the country's many monasteries still practice this custom.
Lunch is the biggest meal, usually eaten in the early afternoon, and dinner is a light meal usually served later in the evening.
Whether one partakes in breakfast or not, the day nearly always begins with a big hot cup of Serbian coffee.
Breakfast (доручак [doručak])
Breakfast in Serbia is eaten early, around 8 or 9 am.
The most popular food for breakfast is a pastry called burek. It is made with layers of dough, filled with cheese, meat, or vegetables, and often fried in pork grease. Serbians serve it with yogurt, which is thin and drinkable in Serbia, and a cup of hot coffee.
Another breakfast favorite is proja, a type of cornbread.
Serbians seldom eat breakfast on the go. Even working people sit down to sip and socialize, filling up tables at homes and cafes around the country.
Lunch (ручак [ruchak])
This is the largest meal of the day, consisting of a soup, a salad, and a main course. It is sometimes followed by a small dessert. Serbians typically eat dinner between 2 and 4 pm, and it is a grand affair.
Traditional favorites include sarma (a dish of minced meat and rice wrapped in fermented cabbage leaves) and prebranac (baked beans bacon or sausage). Another favorite is pljeskavica, a minced meat patty topped with creamy cheese and tucked into flatbread.
This meal is usually always served with a homemade alcoholic drink called rakija, which is sort of like a brandy made from the fruit that grows abundantly in the region.
Dinner (вечера [vechera])
Because of the country's cultural tradition of only eating two meals a day, and the late hour of lunch, dinner is a light meal that only some Serbians eat. Those who eat it, typically partake around 8 or 9 pm.
Serbians eat the same warm comfort foods for dinner as for lunch. 
Some dinner favorites include cevapcici (cevapi) (grilled sausages of minced pork and beef) and djuvec (a lamb or beef casserole with rice and vegetables).
This meal is typically served with either rakija or wine.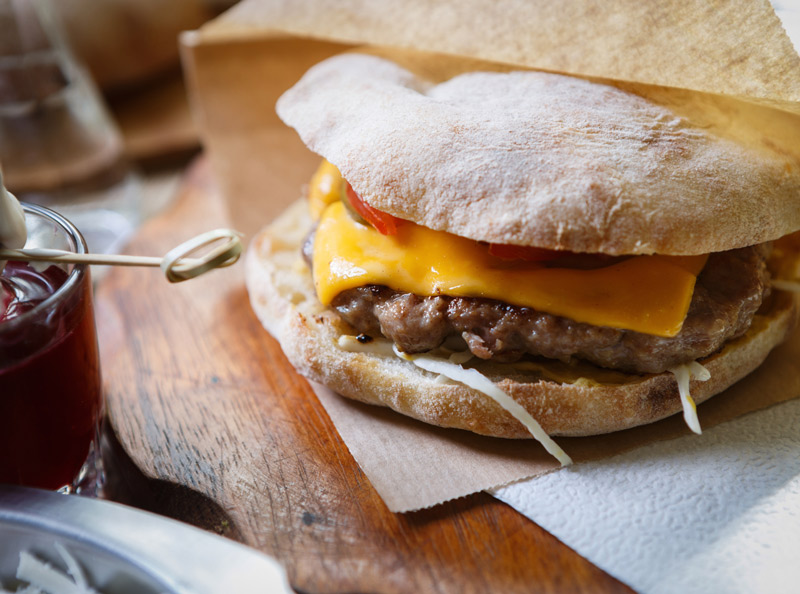 Food etiquette in Serbia
When invited to a home in Serbia for a meal, it is customary to take one's shoes off unless specifically directed not to by the host. 
Bringing a gift of flowers or chocolate for the host is polite.
Upon arriving, the host will offer guests slatko (homemade preserved fruit) and before the meal, bread with salt. They will offer adults strong Turkish coffee or rakija (an alcoholic fruit beverage) to drink.
Once seated, the host will serve food directly onto the plate of the guest, but after that one must add food to his or her plate as desired.
The opposite is true for drinks. The host will refill any empty glass, so leaving a little liquid in the bottom of the glass is the best way to signal you do not wish it to be refilled.
The meal will usually take place over hours of food and conversation, so the best thing to bring to dinner is an empty stomach.
Serbian food by region
Serbia is commonly divided into five regions. These are Vojvodina in the north, north-central Belgrade, Šumadija and Western Serbia, Southern and Eastern Serbia, and Kosovo and Metohija in the south. When learning about Serbia with kids, it may be helpful to take a look at a few, as we do here.
Vojvodina (Northern Serbia)
In this region, many of the local dishes have an Austrian influence, from the era of the Austro-Hungarian occupation. Popular favorites include sausages, noodles, dumplings, and pastries. 
A simple favorite is rezanci s makom, which is a noodle dish with melted butter, sugar, and poppy seed that Serbians here eat as a sweet main course or a filling dessert.
A sweet treat loved by the locals are herovke. These are fried dough balls of sugar, flour, cream, and egg yolk. 
The sausages made in this region, called kulen, are typically pork sausages containing different spices.
Šumadija (Western Serbia)
The cuisine in this mountainous region is rich in fruit and vegetables, and also quite heavy in ham and pork dishes.
Duvan cvarci is a thin-cut version of pork cracklings popular in the area, and svadbarski kupus, or wedding cabbage, is a dish made with both minced pork and bacon. There you will also find vasina torta, a decadent walnut sponge cake.
Raspberries grow abundantly in Western Serbia. The people often serve them with a flatbread called lepinja and soft Balkan cheese.
Leskovac (Eastern Serbia)
This region is home to many traditional Serbian favorites. It is famous for its more Mediterranean style, abundant in flavorful vegetables and spices. 
A common Serbian relish called ajvar is popular here, made of red peppers slow-roasted over an open fire.
The people of this region make a salad called moravska salata, made of peppers, hot peppers, leeks, olive oil, and salt. They often serve it with local grilled meat, which is also a favorite.
The area is famous for a meal called Leskovacki voz (voz meaning 'train'), where many types of grilled meat such as pork loin and sausages, are served one after another. Great for serving a group of friends!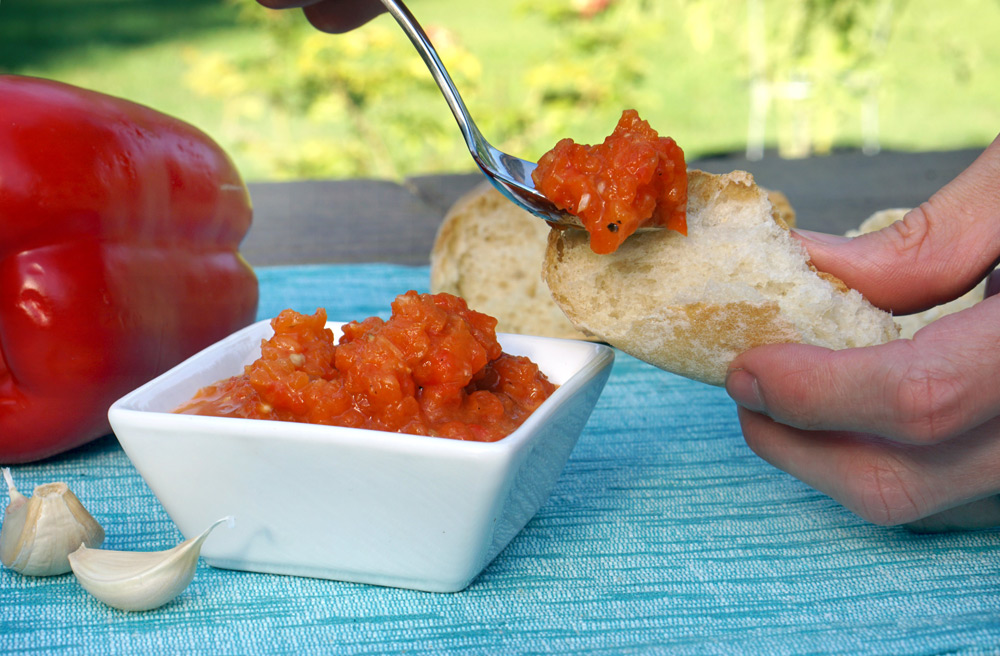 Holidays in Serbia
Discussing holidays is a great way for kids to learn about Serbia. Some holidays may be familiar, but new customs are fun to learn about and try.
Orthodox Christmas (Божић [Bozic], Jan 7)
The Orthodox Church, which is what most Serbians practice, uses the Julian calendar (which is 13 days behind the Gregorian calendar). So Orthodox Christmas falls on January 7th (not December 25th).
In preparation for Christmas, Orthodox Christians fast from meat, dairy, and eggs for the 40 days before, called The Nativity Fast.
The celebration of the day of Jesus's birth begins on Christmas Eve, with a traditional dinner without meat, dairy, or eggs, as their fast lasts until Christmas morning after Mass. A typical meal would be bakalar (a codfish and potato dish) or djuvece (a rice and vegetable casserole). 
The next day, Christmas Morning, Serbians break their fast with a bread called cesnica. This is a sweet bread with a silver coin inside it. They rotate the bread three times counterclockwise before each person tears off a piece. Luck is said to come to the one whose piece contains the silver coin.
During the Christmas feast, Serbians serve slavsko zhito, an important dish of boiled wheat that the women prepare in a specific way. The dish and its preparation are heavy with the symbolism of life and death. Families serve this wheat dish along with red wine, to represent the death of Christ.
A traditional Christmas cookie in Serbia is vanilice, an apricot jam-filled sandwich cookie.
Serbian New Year (Српска Нова година [Srpska Nova godina], January 14)
This is the Orthodox New Year according to the Julian calendar.
Many children get gifts from Grandpa Frost under the tree on this day instead of Christmas, and of course, families hold large feasts.
Larger celebrations may feature a spit-roasted pig or roast goose. Other dishes on the table may include sarma (stuffed cabbage rolls). And there is often an abundance of desserts like tortes and strudels with a poppy seed filling.
Orthodox Easter (Ускрс [Uskrs], date varies)
On this day the Orthodox Christians celebrate the resurrection of Jesus.
Serbians dye Easter eggs in preparation for this day. Most importantly, families dye the red egg first. This is considered the luckiest of the eggs. Serbians often rub it on the cheeks of children and bury it in the yard to help that year's crops to grow. 
In some regions, a special round bread is baked with the whole red egg in the center and given to friends. Lamb is traditionally served on this day, either roasted on a spit or served in chorba od janjetina, which is a lamb and vegetable soup. Families often serve savory cheese pie called gibanica.
St. Nicholas Day (Nikoljdan, December 19)
This feast day celebrates the Christian St. Nicholas, who is the most widely celebrated family patron saint. Even though it occurs during the 40-day fast before Christmas, the celebration feast does not contain meat, dairy, or eggs.
Serbians commonly enjoy fish stews and potato salads. Most importantly they serve St. Nicholas bread, a sweet bread with lemon peel, sugar, and milk.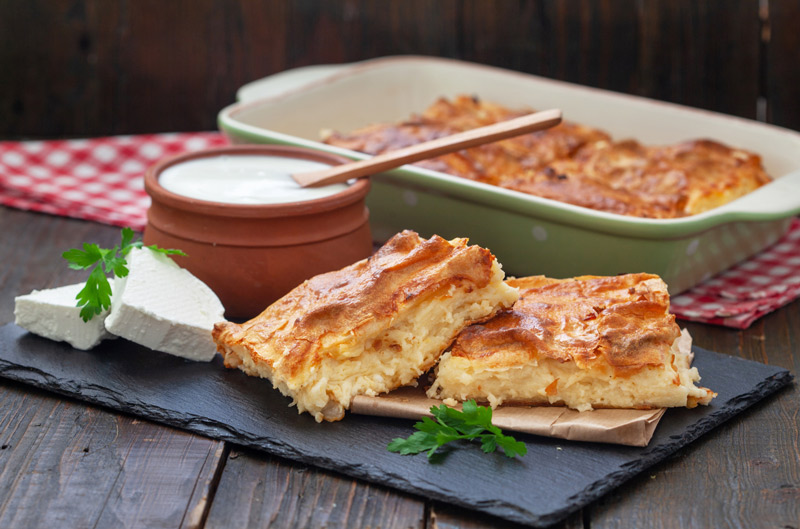 At home ideas for kids to learn about Serbia
As a part of your homeschool Serbia unit study or as a supplement to your child's Serbia unit at school, try some of these ideas at home!