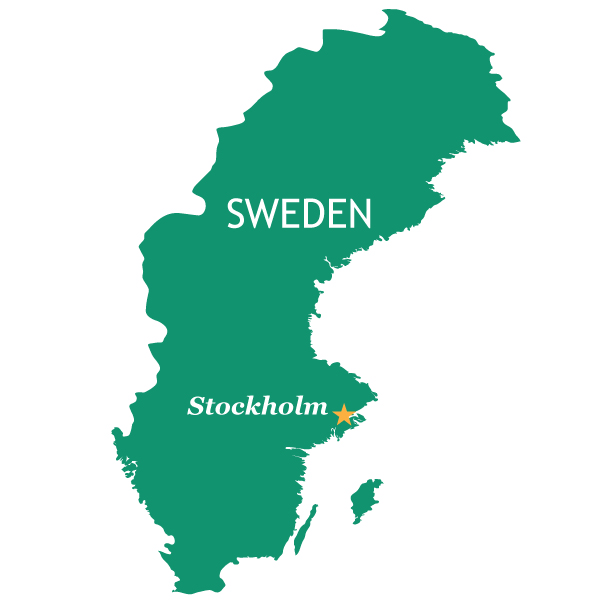 Sweden
Sweden is a large northern country in Europe. This region's cuisine is influenced by the expanse of coast and northern forests. Learn about Sweden for kids!
QUICK STATS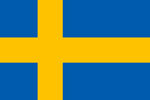 450,295 sq km (173860 sq mi)
Northern Europe, bordered by Finland, the Gulf of Bothnia and the Baltic Sea to the east; the North Sea and Denmark to the south; and Norway to the west and north.
A brief history for kids to learn about Sweden
Archeological evidence tells us that there were people living on what is now Swedish soil as far back as the Stone Age.
Germanic tribes known as the Sami and the Svea were the earliest tribes who settled in the area. Warriors from the Svea tribes began to build ships and invade neighboring countries and coastal areas to steal goods and land.
From around 800-1200 AD, these warriors, known as Vikings, became more powerful and organized, engaging in trade and expanding their settlements even as far as North America.
The region remained a loosely organized group of provinces, however, and the leaders were often at war with each other.
The provinces became a unified kingdom around 1200 AD.
Sweden took over Finland in 1323. And, by 1397 the countries of Sweden, Denmark and Finland were all united under one ruler. This union lasted until 1523, when the Swedish won a series of battles to break free.
In the next century, Sweden rose to power and took over a large parts of Finland, Russia, Poland and Estonia, forming the Swedish Empire. In the early 1700's however, Sweden began to gradually lose many of its conquered territories.
Over the next 100 years, Sweden fought several wars with Russia, France and other European powers. In these wars Sweden lost much of the land in Eastern Europe first, then the other Scandinavian territories. When Sweden lost Finland to Russia in 1809, the conflicts ended for a time.
The final war fought by the Swedish was to force a union with Norway in 1814.
Since then, Sweden has committed to peace, remaining neutral in all global conflicts including World War II. It joined the European Union in 1995.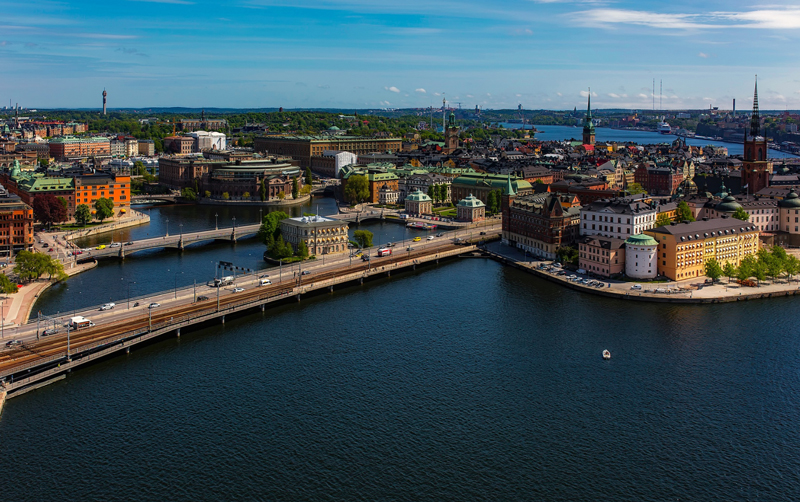 Fun facts about Sweden for kids
Sweden is home to a hotel made entirely of ice.
The nation's capital, Stockholm, stretches across 14 islands.
The nation of Sweden is the world's 5th largest consumer of chocolate.
Swedish food
Swedish cooking tradition centers on simple home cooking, known as Husmanskost. It focuses on simple natural ingredients, centered on dairy products, breads, berries and seafood.
Much of the popular cuisine in Sweden evolved from the need to gather and store as much food as possible to prepare for the long, cold winters. Swedish people have perfected the preserving arts of salting, fermenting, drying berries, making jams, jellies and cheeses over many years of adapting to the artic temperatures.
These ingenious methods of food preservation and the mix of cultural influences throughout Sweden's history come together to make Swedish cuisine what it is today.
Mealtimes in Sweden. What do Swedish people eat?
Swedish people eat three meals a day, with a few well-placed snacks in between called mellanmal.
The people are known for being especially health-conscious, and also place a great deal of emphasis on caring for the environment. They pride themselves on consuming local, organic products. Grocery stores in Sweden go so far as to regularly sell items without packaging at all.
While Sweden imports some food staples, generally the diet of the Swedish is simple, traditional, and sourced as locally and ethically as possible.
Breakfast (frukost)
Breakfast is eaten around 7 or 8 am. It is a light meal, consisting of strong coffee and a small dish like a buttered, open face sandwich with ham or cheese, called smorgas.
Grot, which is type of oatmeal porridge is also popular, served with milk and jam. Other breakfast favorites are filmjolk, which is a fermented buttermilk yogurt, or plain yogurt and cereal.
Lunch (middag)
Lunch is served around 11:30 to 1 pm. It is a hot filling meal, usually consisting of a soup or stew with a side of bread or pancakes.
Pea soup made of yellow peas is a traditional favorite and served with Swedish pancakes in a meal called artsoppa och pannkakor.
In the 19th and early 20th centuries, Thursdays were commonly the day that households gave their maids the day off. Before their absence they would often make a fresh pot of soup, coining the tradition of Soup Thursdays, which is still part of the Swedish culture today.
Dinner (kvallsmat)
Dinner is served around 6 pm. Meat, vegetables, fish and potatoes usually make up the Swedish evening meal.
Some popular favorites are world-famous Swedish meatballs (meatballs of ground pork or beef and simmered in a light gravy), and herring (served marinated or pickled).
Wallenbergare (ground veal patties served with mashed potatoes) is another Swedish favorite.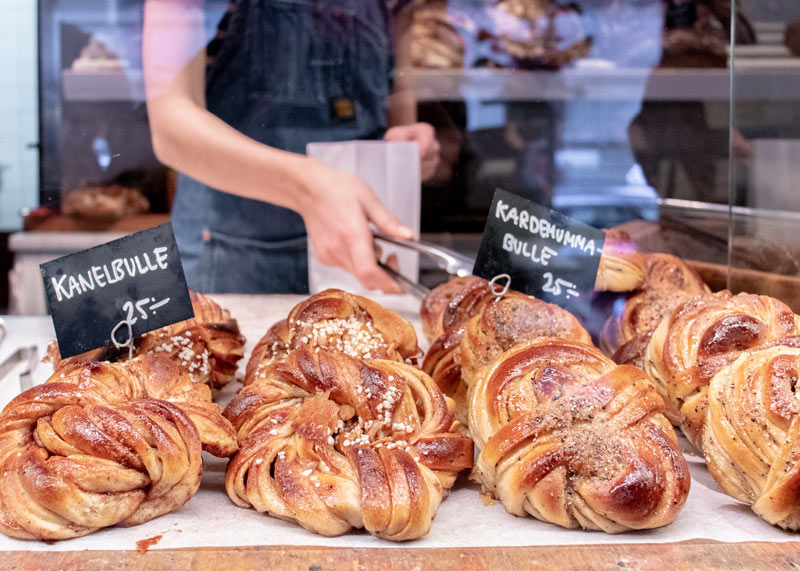 Food etiquette in Sweden
When invited to a meal in Sweden, it is polite to remove one's shoes upon coming into the house. The host will then direct the guests as to where to sit.
There may be a toast or two before the meal begins, and it is good etiquette to look the toast-maker in the eye and say "Skol" before drinking.
When the host serves dinner, one should wait until everyone has been served to begin eating.
The knife should remain in the right hand and the fork in the left. Hands should remain visible, above the table at all times.
Swedish people pass dishes to the left. And, dinner guests place salt and pepper shakers directly into the hands of the guests requesting them.
Dinner is considered over when the guest of honor taps his fork against the glass, calling everyone's attention and thanking the host for the wonderful meal.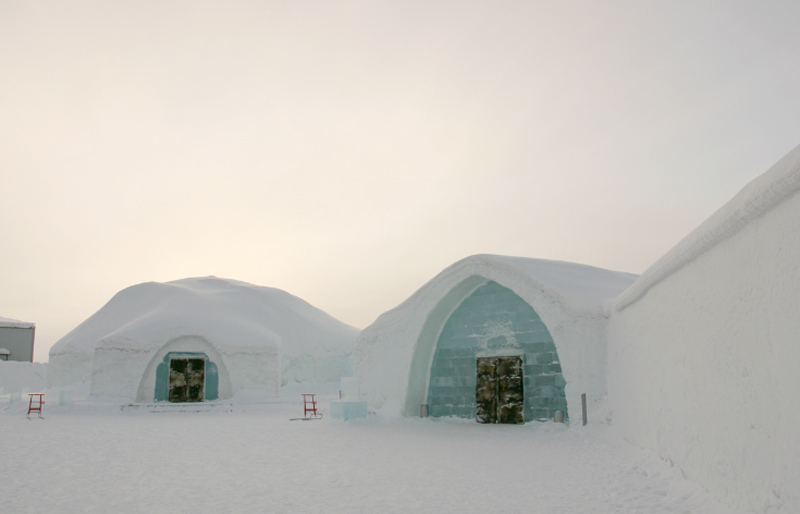 Swedish food by region
Sweden is often divided into three regions: Norrland in the north, Svealand in central Sweden, and Götland in the south.
Doing a unit on Sweden for kids, it may be helpful to divide the unit study into these regions.
Swedish Lappland
The Lappland is a province in northernmost Sweden (and also includes part of northern Finland). This cuisine is a subset of Northern Swedish food culture. It has its roots in the traditions of the Sami tribe. It is much different than that of other regions and cultures, based on the historically available food sources and hunting and farming techniques.
Reindeer and moose meat are still dietary staples for Laplanders. They use these meats to make jerky and steak. And, they spread the fat on flatbread, known as gahkku.
People forrage local arctic raspberries (known as arctic brambles) and lingonberries. They use them to make jams, tarts, and juice, which they serve hot, like a tea.
Norrland
In this Northern region of Sweden, the climate helps to create cuisine, with many local favorites unique to the region.
Crayfish, whitefish and Kalix lojrom, an orange roe found only off the coast of the small northern town Kalix are local delicacies.
Cloudberries grow wild in this region. And, the people make them into jams and jellies.
Because of the cold weather, hot drinks are the norm. A regional favorite is kaffeost, or coffee cheese. It is a hot coffee served in Birchwood cups, with several cubes of mild cheese added.
Gotaland
In the southern region of Sweden, the milder climate is more suited to farming and livestock raising. Because of the prevalence of dairy farms, cheeses, like wrangeback, and also butter and cream are more common.
The people pair them with bread, like kavring rye bread. And they also use the dairy in savory main dishes like kroppkokor (potato dumplings stuffed with pork and served with sour cream and melted butter).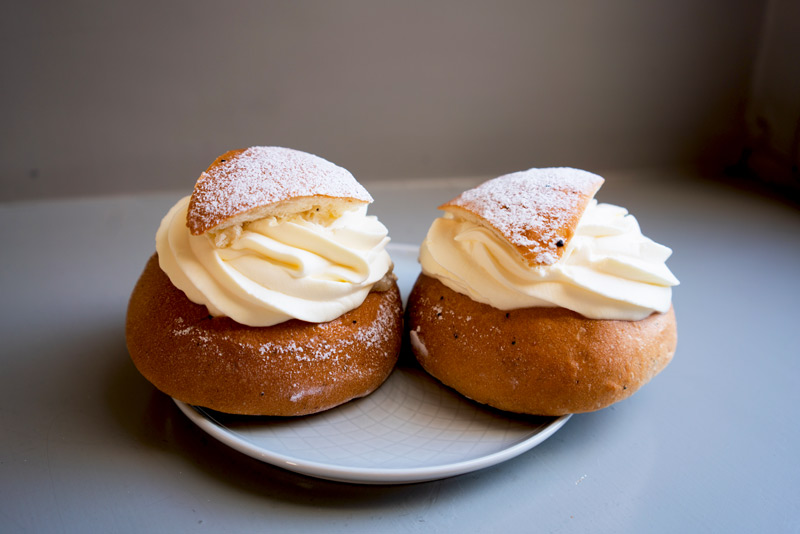 Learn about some holidays in Sweden
Holidays and their customs are a wonderful way for kids to learn about Sweden. Some holidays will be familiar, but the ways of celebrating them may not be. Kids will have fun learning new customs and celebrating new holidays.
Shrove Tuesday (fettisdagen, date varies)
This is the day before the beginning of Lent. It was traditionally a day of confession, so one would be forgiven of their sins before Lent began.
The traditional dish Swedes make on this day is semla (cardamom buns filled with almond paste and whipped cream). The buns are often served floating in a bowl of warm milk.
Easter (Påsk, date varies)
The majority of Swedish people are Lutheran, and this is the day they celebrate Christ's resurrection. Families set up a paskris. These are delicate trees made of birch twigs and decorated with feathers, Easter eggs, or baby chick hand-crafted ornaments.
Swedish people serve a big meal on Easter day, in the Swedish smorgasbord (buffet) style. Fish like sill (pickled herring) or gravlax (cured salmon), are present at the table. Potatoes, especially in the casserole jannsons frestelse, are popular, as well as roast lamb.
Often children dress as Easter witches and go around trading drawings or singing songs for candy, similar to trick or treating.
Walpurgis Night (Valborgsmässoafton, April 30)
This is a day to celebrate the arrival of spring and the day that Saint Walpurgis was canonized (named a Saint). Some very religious people in Sweden make a pilgrimage to the church of St. Walpurgis.
Traditionally Swedish people celebrate this day with a bonfire to ward off witches and evil spirits. The bonfires are a time for fun family gatherings, complete with hot dogs and marshmallows roasted over the open fire.
The main dish at these celebrations may be smorgastarta, a sandwich made in the shape of (and decorated like) a cake.
St. Lucia Day (December 13)
In Sweden, this day is the official start of the Christmas season. It is a day to celebrate Saint Lucia of Italy, who brought food to persecuted Christian hiding in Rome.
In the morning, the oldest daughter in the family dresses in a white dress with a red sash, wearing a wreath on her head, and brings coffee and saffron bread to her family for breakfast.
Throughout the day, there are parades of children dressed in the same costumes, wearing lighted wreaths and singing songs.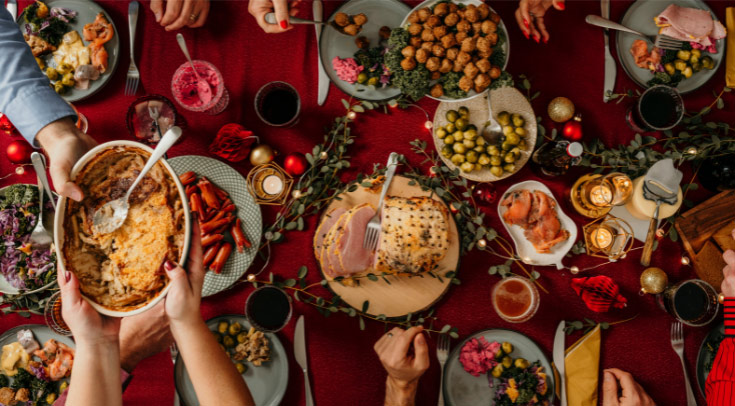 At home ideas for kids to learn about Sweden
As a part of your homeschool Sweden unit study or as a supplement to your child's Sweden unit (or Scandinavia unit) at school, try some of these ideas at home. Using hands-on activities to help kids learn about Sweden will immerse them in the culture and help them remember what they learn in their geography unit study!
Find some birch twigs and try making your own paskris for Easter this year. Be creative with feathers, plastic eggs, ribbons, and glitter.
Celebrate St. Lucia Day with a homemade costume and wreath! Try out a recipe to make your own saffron bread or substitute cinnamon rolls.
Make your own sandwich cake and take it on a picnic.
Take a virtual tour of Sweden's ice hotel – while drinking some lingonberry juice or tea. Try your hand at building your own hotel out of ice cubes.