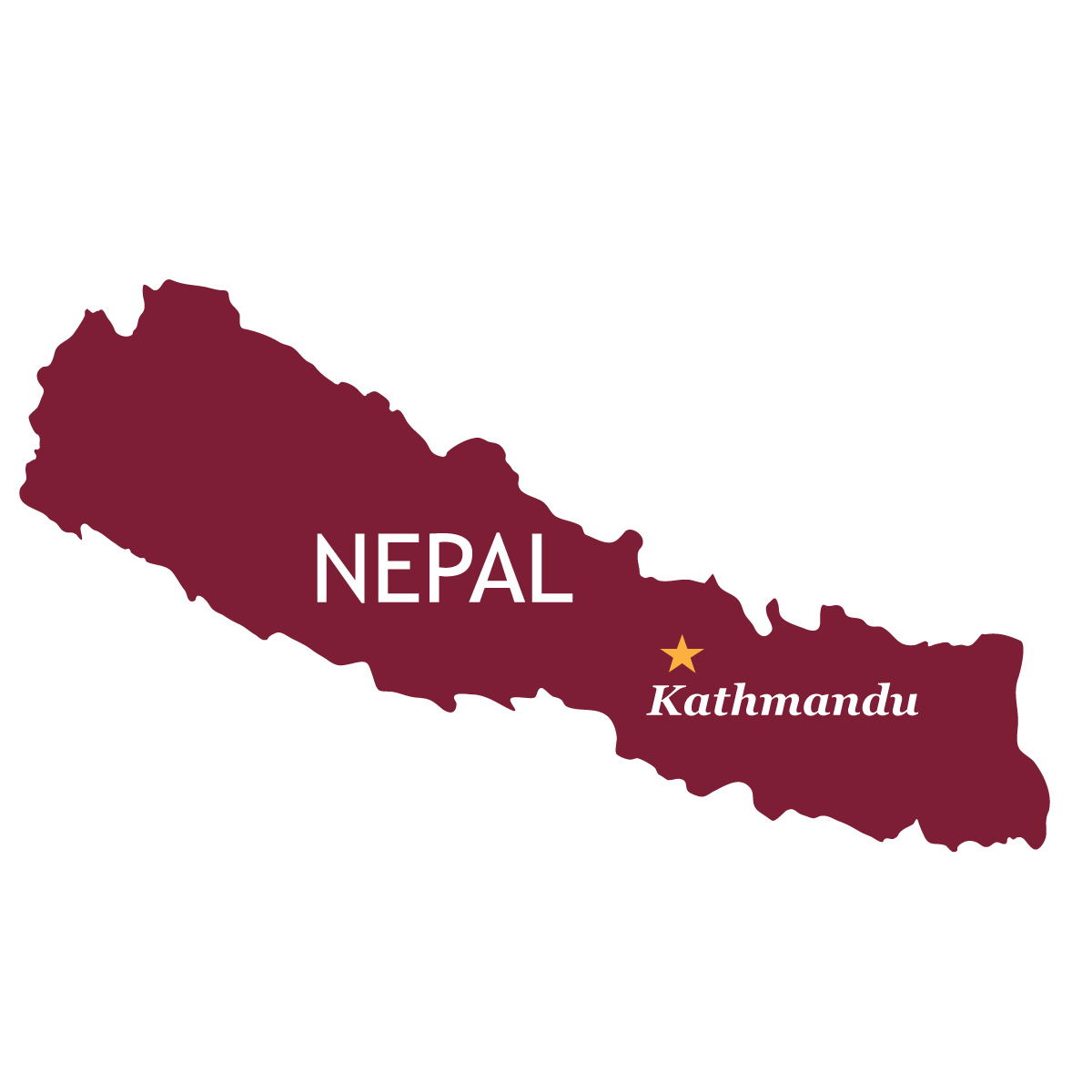 Nepal
Located in south Asia, mainly situated in the mighty Himalayas, Nepal's cuisine is Himalayan at its core and yet enriched with Chinese cooking techniques and Indian spices. Grab your kids and let's learn about Nepal!
QUICK STATS
The Federal Republic of Nepal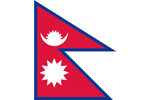 56,956 sq mi (147,516 km sq)
Federal parliamentary republic
Mainly situated in the Himalayan mountain range, although it also includes some parts of the Indian subcontinent. Bordered by Tibet Autonomous Region of China to the north, and India in the south, east and west.
A brief history for kids to learn about Nepal
The name "Nepal" was first mentioned in religious Hindu texts, referring to the land as the birthplace of Hinduism. This is not historically proven, but it is likely to be so, as Indo-Aryan civilization was thriving in the area of the Kathmandu Valley in the first and second millennia BC.
The northern part of the country, however, has always been more intertwined with Tibetan culture.
In the first millennia BC, Siddhartha Gautama Buddha – the founder of Buddhism – was born in Lumbini, located in Southern Nepal.
During ancient and medieval times, Nepal played an important economic and cultural role in the Himalayan Silk Road, trading spices, fabric, jewelry, and other goods.
Many kingdoms of Indo-Aryan and Sino-Tibetan origins were formed in present-day Nepal throughout history. However, the whole land was first unified by the Gorkha kingdom in the 18th century. The Gorkhas developed a very unique culinary cuisine that can still be found today.
Nepal was never colonized by an external political entity. Nevertheless, some ruling dynasties, such as the Shah, had political and economic ties with the Chinese kingdom, neighboring Indian dynasties, as well as the British rule in India at the time. In fact, Nepal actually took the role of a neutral buffer state, preventing conflicts between the British rule in India and the Chinese.
Parliamentary democracy was first introduced to Nepal in 1951. However, it was suspended twice, in 1960 and 2005, due to the rise of monarch rule.
A Nepalese civil war took place in the 1990s and the early 2000s. In 2008, it eventually brought an end to the world's last Hindu monarchy.
Nowadays, Nepal is a parliamentary democracy, with the majority of the Nepalese population practicing Hinduism. There is also a smaller percentage of Buddhist and Muslim communities in the county.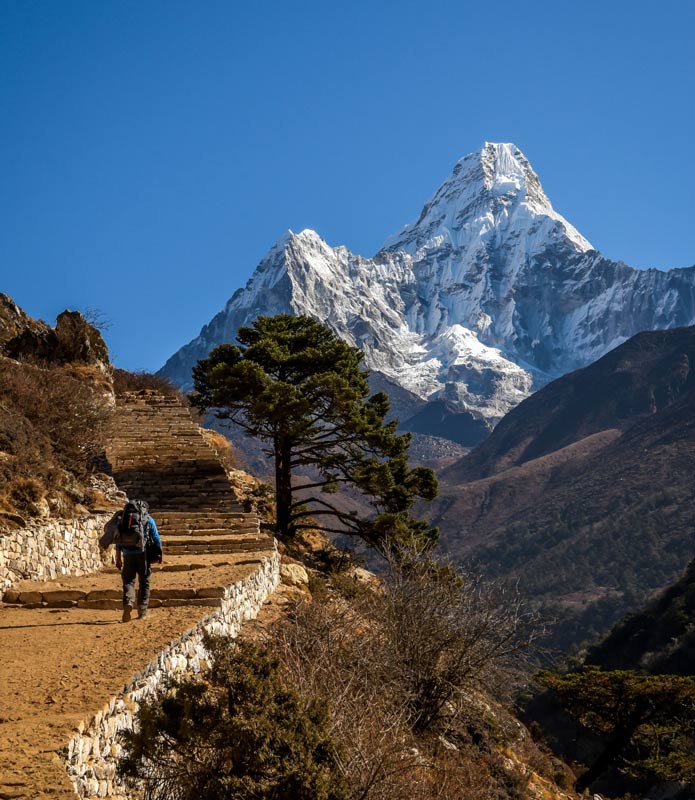 Fun facts about Nepal for kids
Mount Everest is literally called the "Forehead of the sky" by the Sherpas, an ethnic group native to the region.
Touching anything with your feet is considered to be offensive in Nepal. Never step on your Nepalese friend's toes!
In ancient times, before human settlement in Nepal, the Kathmandu Valley was once an enormous lake, full of floating lotus flowers.
Nepalese food
Located between two ancient civilizations, the Chinese and the Indian, Nepalese cuisine is rich with flavors and cooking techniques, while also preserving its own unique Himalayan culinary traditions.
The daily, average meal of a Nepali person typically consists of the so-called "Trinity" – Dal (lentil soup), Bhat (steamed rice), and Tarkari (some sort of vegetable curry). Served together on a plate with a few accompaniments, these are called Khana.
However, if there is any celebration or occasion which requires a more elaborate meal, they will complement the basic "Trinity" with an appetizer (dumplings or a fried snack), a flatbread (roti flatbread or a stuffed paratha bread, similar to what you would find in India), and a drink (usually yogurt lassi or buttermilk) which functions as a palate cleanser.
One of the most renowned street food dishes in Nepal are momos. These are gyoza-like dumplings stuffed with spiced meat or vegetables. You find them traditionally served with some sort of a sauce, such as sesame chutney or tomato chutney.
Momos are a great example of the influence of Chinese and Tibetan cooking techniques on Nepalese cuisine. Indian influence is also prevalent, especially in the generous use of spice in the momo's filling and the selection of chutneys.
Aside from external influences, Nepalese cuisine proudly holds onto its own unique flavor, by using indigenous plants and local products while cooking.
For instance, the Timur pepper is a berry native to the Himalayan region of Nepal. It is related to the Sichuan pepper. It contributes a unique, numbing taste and brings any dish to a new level. Nepali people use it widely when spicing up a curry or meat dish.
Mustard oil, with its spicy flavor and distinctive aroma, is also widely used in Nepalese cuisine, as mustard plantations are very common in the region.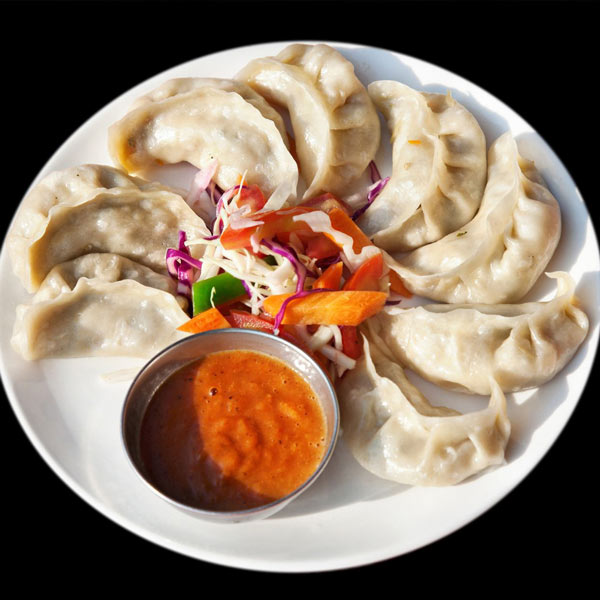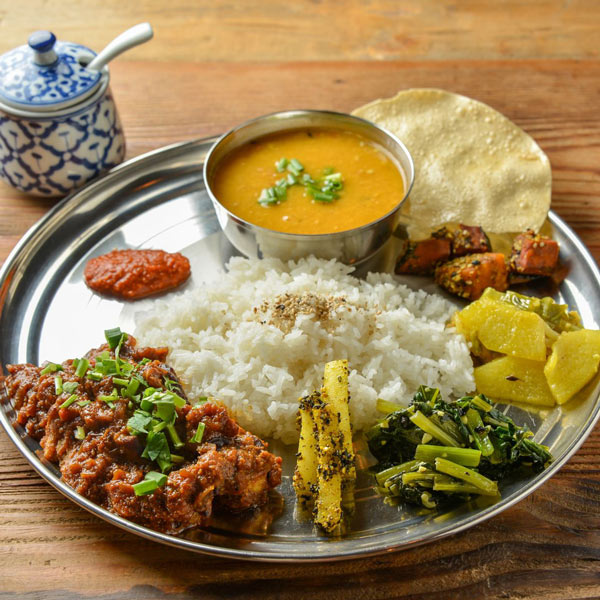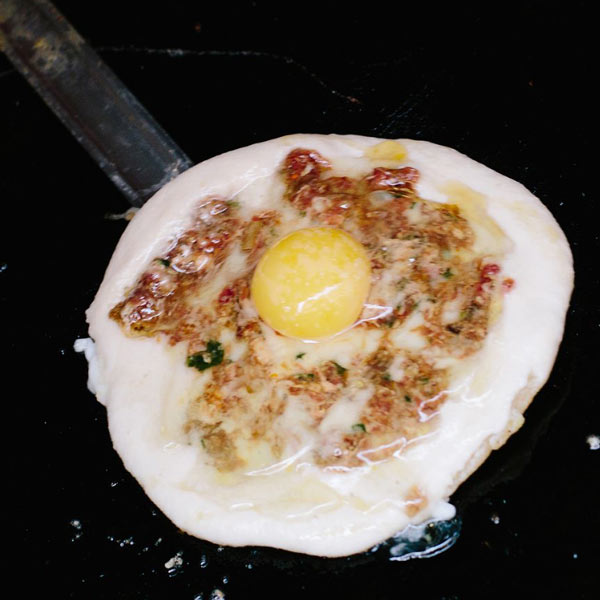 What do the Nepalese eat? Mealtime in Nepal.
The Nepalese always start their morning with their traditional tea (chai), sometimes also a snack. However, traditionally, the Nepalese do not abide by a daily routine of breakfast-lunch-dinner.
Instead, they consume two main meals during the day, one during the mid-morning and a second one in the afternoon.
Breakfast (tea time)
The Nepali morning routine always begins with chai, a traditional black tea. It is quite strong in flavor, due to the use of buttermilk or yak milk, and it is very comforting. It can be consumed solely by itself, but it is commonly complimented with bread or a snack, such as a samosa (a fried, stuffed pastry).
Lunch
Nepali people typically consume the first main meal of the day during mid-morning, usually around 9 am. Commonly, it would consist of the Nepalese "Trinity" Dal (lentil soup), Bhat (steamed rice), and Tarkari (a vegetable curry).
Dinner
The Nepalese typically eat their second and last meal of the day in the afternoon, usually around 3 pm. It is usually more elaborate than lunch. Alongside the Dal-Bhat-Tarkari combination (see above), it might also include an appetizer, a flatbread, some chutneys, and pickles, supplemented with a yogurt drink.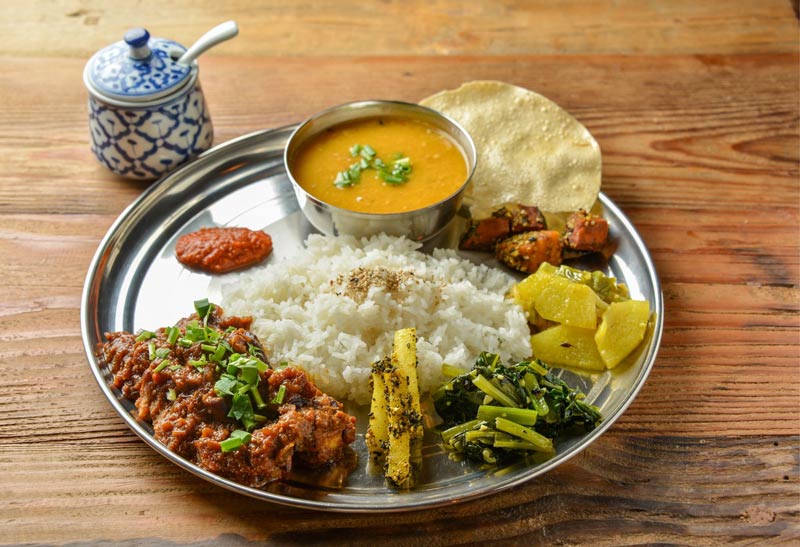 Food etiquette in Nepal
In Nepal, they commonly eat their food using the right hand, while the left hand stabilizes the plate. You will likely not find silverware at the table, as eating with your hand is expected.
If hosted by a Nepalese family, they may consider leaving food on your plate rude. It would imply that the dish wasn't satisfying. Instead, if your host serves you too large of a portion, you should ask them to remove some of it, before eating from your dish.
The majority of the population of Nepal is Hindu, so beef dishes are hard to find. (In the Hindu religion the cow is sacred.) Instead, mutton or pork are the common meats.
Nepalese food by region
Nepal's population comprises of many ethnic groups, each living in a completely different natural environment, from lush forests to Himalayan ice deserts. Each of these groups has developed a unique cuisine, based on its natural surroundings, while also being open to outer influences.
If you're learning about Nepal with kids, it may be helpful to take a look at a few of these regions in more detail.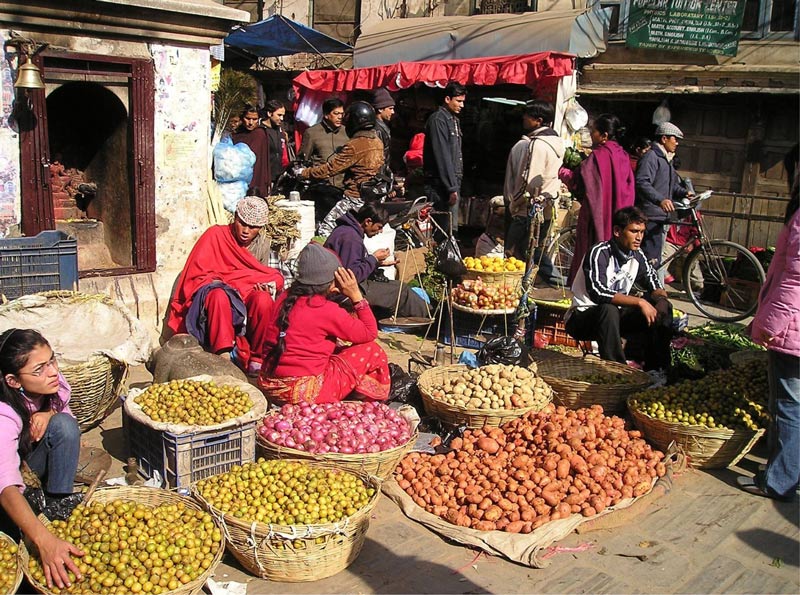 Newari Cuisine
The Newars, considered to be the original inhabitants of the fertile Kathmandu Valley, have a diverse culinary tradition, consisting of more the 200 dishes.
Fasting periods and festivals are a large part of the Newari tradition. And there are many unique dishes that they prepare especially for such occasions. For example the Choyla buffalo stew and Chhon Kwa, a curry made of bamboo shoots and potatoes.
Another specialty of this region is a rice flour crepe, chatamari. This dish, sometimes called Newari pizza because of the way it looks, is served for festivals and special occasions.
Khas Cuisine
The Khas people are an Indo-Aryan group. Historians believe they migrated to Nepal from Kashmir during ancient times.
The Khas cuisine is known first and foremost for the Dal-Bhat-Tarkari trinity (see above).
Their tarkaris (vegetable curries) are very diverse, using fresh and fermented local vegetables. Pulses (beans) and porridges made of barley, millet, and buckwheat are also very common.
Himalayan Cuisine
The Himalayan regions of Nepal, especially in the north of the country, have always been widely influenced by Chinese and Tibetan culture. Therefore, noodles and dumplings are widely consumed – either fried, steamed, or boiled in a soup.
They commonly raise yaks, Himalayan goats, and sheep in this region. Hence, dairy products such as yak milk and goat yogurt are a big part of the Himalayan diet.
Thakali Cuisine
The Thakali people dwell in the transitional part between the Himalayas and Nepal's lowlands and thus have a fascinating culinary heritage. The Thakalis take advantage of the lusher area that they live in (by eating more vegetables, for example), while still preserving some Himalayan cooking traditions.
Yak meat and dairy products are very prominent in the region. And the people here eat meat more commonly than in other areas of Nepal.
Due to the relatively cold climate, they often serve grains such as barley and buckwheat.
Terai Cuisine
Despite the Himalayas being an integral part of the Nepalese landscape, Nepal also has a lowland area on its southern end. This Terai region has an average elevation of 1500-2000 meters (5000-6500 feet).
Due to its proximity to India, Mughlai, and Northern Indian cooking traditions are prominent in this area.
A typical Terai table includes the Nepali "Trinity" of rice, lentil dal, and tarkari (vegetable curry). But might also include tarua (deep-fried vegetables), papad bread, mango pickles, and yogurt.
For non-vegetarian dishes, the people of this region commonly eat goat and fish.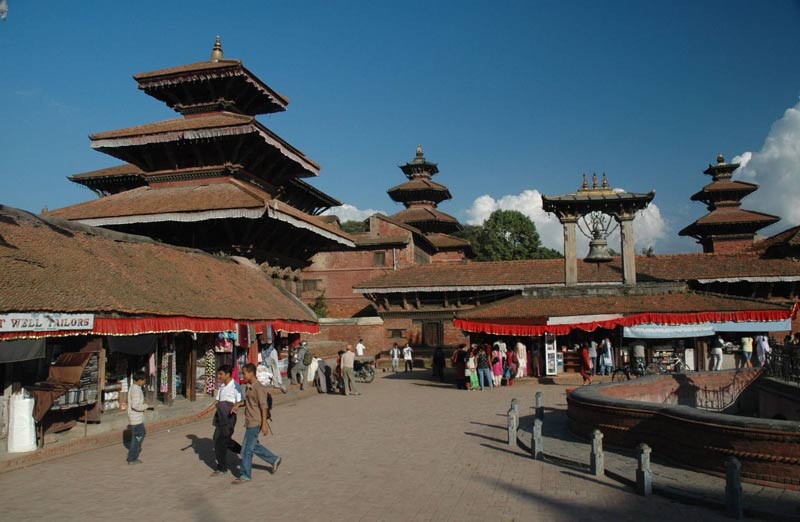 Holidays in Nepal
Nepal is known as the "State of Festivals". The people of Nepal celebrate 31 national holidays per year as well as many other public holidays, which differ according to the ethnic group.
Discussing holidays is a great way for kids to learn about Nepal. So let's set our party mood by learning about some of Nepal's festivals!
Bisket Jatra (Nepali New Year, April )
Nepali New Year is usually celebrated around April 11th, though there are slight changes to it, as Nepal uses a lunar calendar. The New Year symbolizes unity between all the different ethnicities within the Nepalese population.
Every morning, believers gather in the Hindu temple, pray and make offerings to the gods. They circle the temple counter-clockwise and ring mantra bells, which symbolize good karma and merit.
Each region has its own special traditions and foods for the New Year.
Buddha Jayanti (The Birth of Buddha, May)
Celebrated on the full moon day of May (around the end of May), "Buddha Jayanti" has a special meaning for the Buddhist community of Nepal, as in 623 BC Prince Siddhartha Gautama (also known as the "Buddha", the enlightened one) was born in Lumbini, nowadays in southern Nepal.
Many Buddhist and cultural festivals take place on this day, especially in Lumbini and Kathmandu.
A common dish eaten on this day is keer, a rice pudding. The dish commemorates the story of a girl who offered the Buddha a bowl of milk porridge during his life.
Dashain (October)
Dashain is probably the most popular holiday in Nepal, celebrated during the first ten days of the lunar month of Dashain (usually in October).
This holiday commemorates the prevailing of good over evil, as the goddess Durga defeated the demon Mahiha, according to the Hindu tradition.
Sel roti is a tasty fried sweet bread commonly eaten during Hindu festivals like Dashain.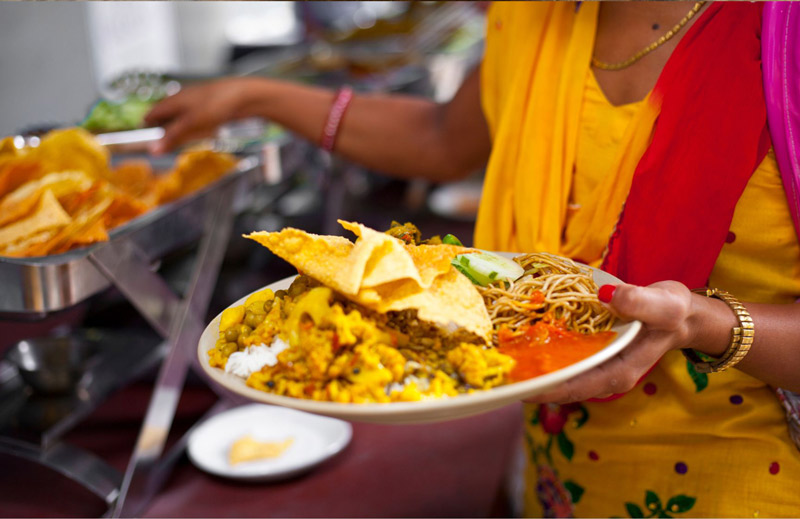 At-home ideas for kids to learn about Nepal
As a part of your home-school Nepal unit study or as a supplement to your child's Nepal unit at school, try some of these ideas at home:
Cook a hearty Nepali porridge on a rainy day. This is the ultimate comfort food!
Put on your aprons and fold your own Momo dumplings at home! This is a must for origami lovers.
Cook a Nepali Dal-Bhat meal set (see above for recipe links and ideas) and read some stories from Hindu mythology or the "Jataka Tales" (the stories of the lives of the Buddha).
Use Word Hippo to learn a few words in Nepali.