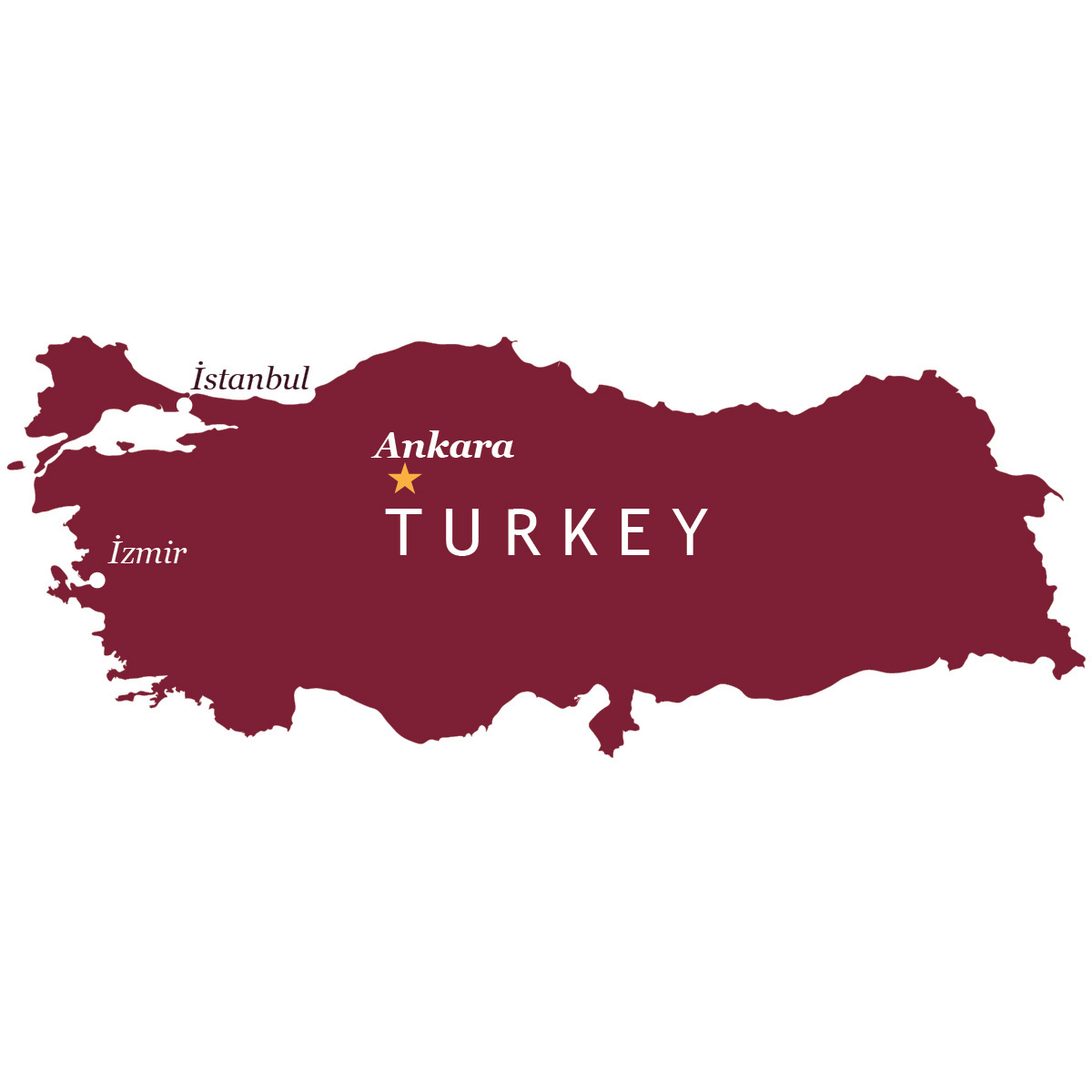 Turkey
Turkey is a large peninsula situated between Europe and Asia. The cuisine bears the marks of the many ethnicities who have lived in the region. Grab your kids and let's learn about Turkey!
QUICK STATS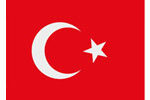 302,455 mi sq (783,562 km sq)
Parliamentary Representative Democratic Republic
Eastern Asia, bordered by the Black Sea to the north; Georgia, Armenia, and Iran to the East; Iraq, Syria, and the Mediterranean Sea to the South; and the Aegean Sea and Bulgaria to the West
A brief history for kids to learn about Turkey
Around 1600 BC, the Hittites arrived in Turkey and formed the first empire in the region, called Anatolia.
In 1274 BC, the Egyptians invaded, and the Greeks soon after.
By 1180 BC, the Hittite empire collapsed and Greek peoples began to settle on the Mediterranean coast. They grew in power and influence in the known world, founding many cities in the region, including Byzantium in 657 BC.
In 546 BC, the Persians invaded Anatolia. They took over the majority of the land, but their rule was short-lived. The Macedonian Alexander the Great took control of the region in 334 BC, and then finally the Romans in 130 BC.
Byzantium, renamed Constantinople, became the capital of the Roman Empire for hundreds of years.
In the 11th century AD, Turks began to migrate to the area, and in 1071 they took control of Constantinople.
However, the Ottomans invaded Turkey in 1453, and Turkey became part of the Ottoman Empire. The Ottoman Empire fought alongside its ally, Germany, in World War I.
The Ottoman Empire was subsequently defeated, and in 1923 Turkey became an independent nation.
Throughout the 20th century, Turkey was embroiled in many armed conflicts with the Kurdish people. Fighting continued throughout most of the 1980s and 1990s, both in Turkey and Iraq.
In 2005, Turkey began its effort to join the EU.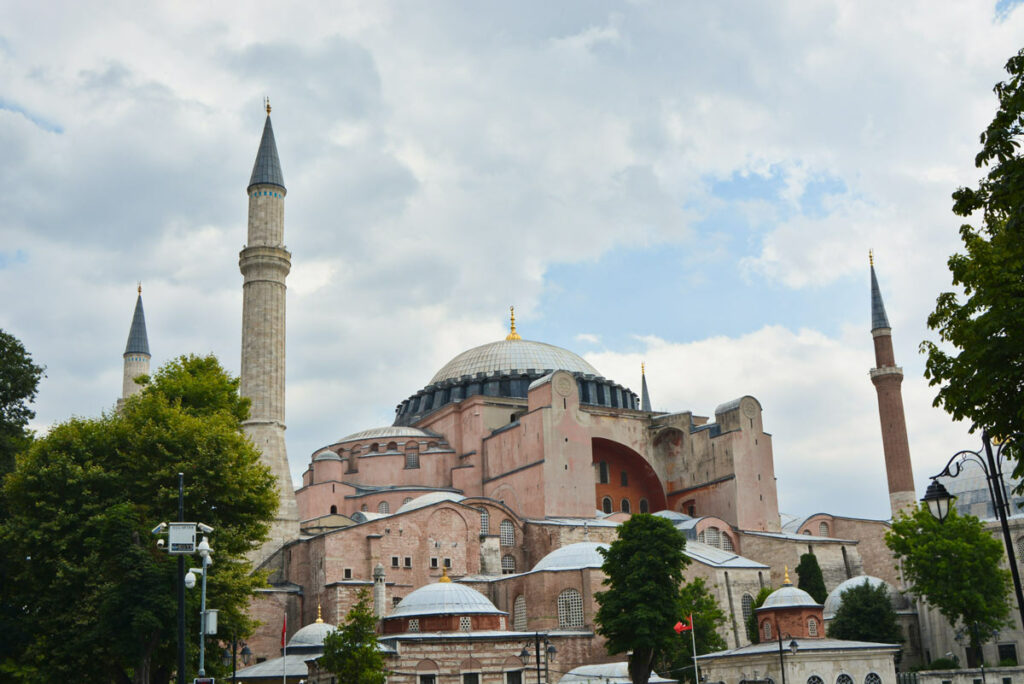 Fun facts about Turkey for kids
Istanbul is on two continents – Europe and Asia.
The story of Santa Claus originated in Turkey.
Turks originally introduced coffee to Europe in the 16th century. In fact, during this time period, women in Turkey could divorce their husbands for not providing them with enough coffee.
Turkish food
The many ethnic groups that have taken control of Turkish soil throughout history have left their mark on Turkish cuisine.
Turkey sits right on the border of Europe and Asia, so the food traditions of neighboring nations that have influenced Turkish cooking are especially diverse.
The result is a unique blend of flavors, heavy in meat, vegetables, noodles, dairy, and of course Mediterranean olive oil.
Turkish cuisine also varies greatly by region. The coastal areas, the mountainous regions, and the fertile valleys produce different staples based on climate, and the regional dishes reflect those differences.
However, across the country, home-cooked food and a welcoming kitchen table are important parts of Turkish culture.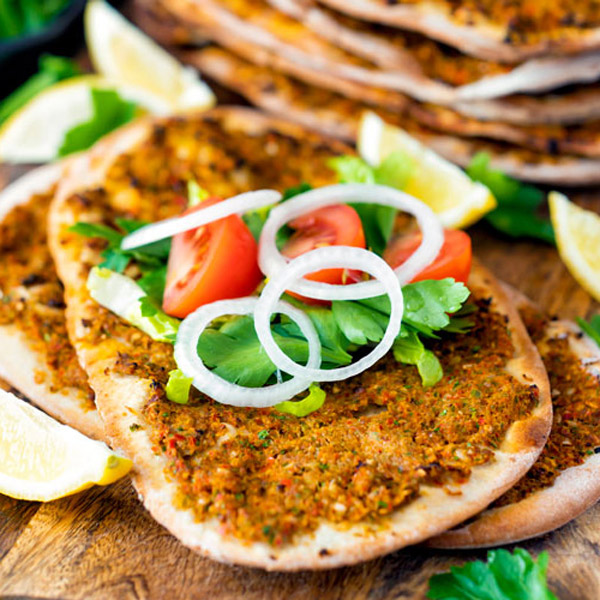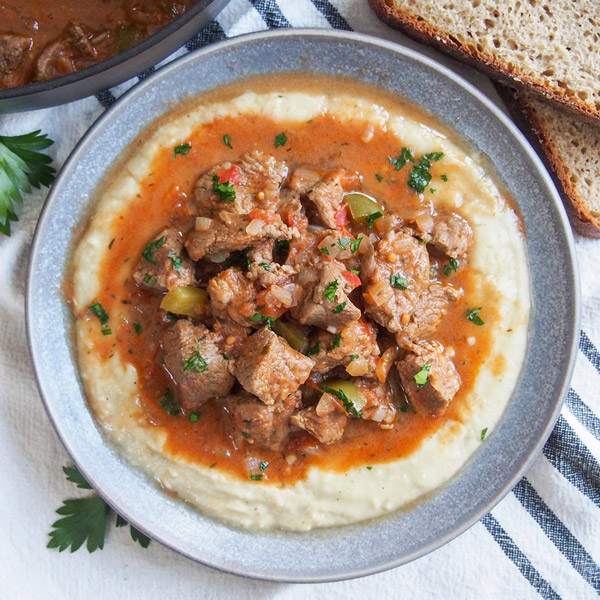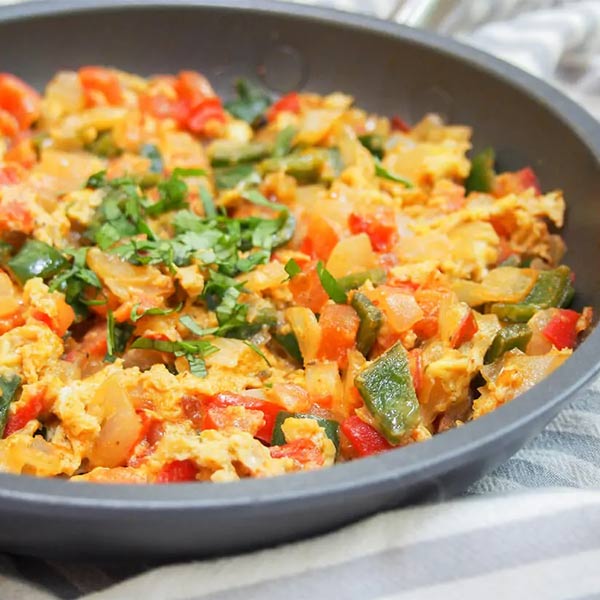 Meals in Turkey. What do Turkish people eat?
Turkish people eat three meals a day, with a few snacks in between. They tend to have a full home-cooked meal for breakfast, lunch, and dinner. They also sit down for hot tea with cake or cookies, usually in the late morning or midafternoon, when neighbors commonly stop by for a visit.
In Turkish culture, the kitchen table is a place to connect with friends and spend time with family, enjoying the delicious traditional favorites handed down through generations.
Breakfast (kahvalti)
A typical Turkish breakfast consists of bread with jam, honey, or cheese, like feta or lor, a goat cheese similar to cottage cheese.
Other favorites may also be served, like sucukla yumurta, which is a dried spicy beef sausage with eggs.
Sometimes Turkish people serve coffee, but they generally prefer a pot of hot black tea.
Lunch (öğle yemeği)
Lunch is eaten generally from 12 – 2 pm. Most Turkish lunches consist of a soup or a stew, made with beans and seasonal vegetables like artichokes, tomatoes, and peas. They serve the stew with sides of fresh-baked bread, rice pilaf, and yogurt.
A popular Turkish lunch is a stew of white beans and tomato sauce, called kuru fasulye.
Dinner (akşam yemeği)
This is the largest meal of the day for Turkish people.  It is typically eaten at 8 – 9 pm. Dinner begins with soup, then the main course of a meat and vegetable dish. 
Some favorites are gozleme, a thin flatbread stuffed with spinach or meat and cheese.
Kebabs are another favorite. People outside of Turkey often assume that 'kebab' means shish kebabb (grilled skewers) or doner kebab (meat thinly sliced off of a vertical spit roaster). However, Turkish kebabs are actually a category of meat dish. They include dishes made with sautéed meats served with rice and vegetables and grilled meats served with a sauce.
Turkish people often serve meat with cacik, a garlic, cucumber, and yogurt sauce.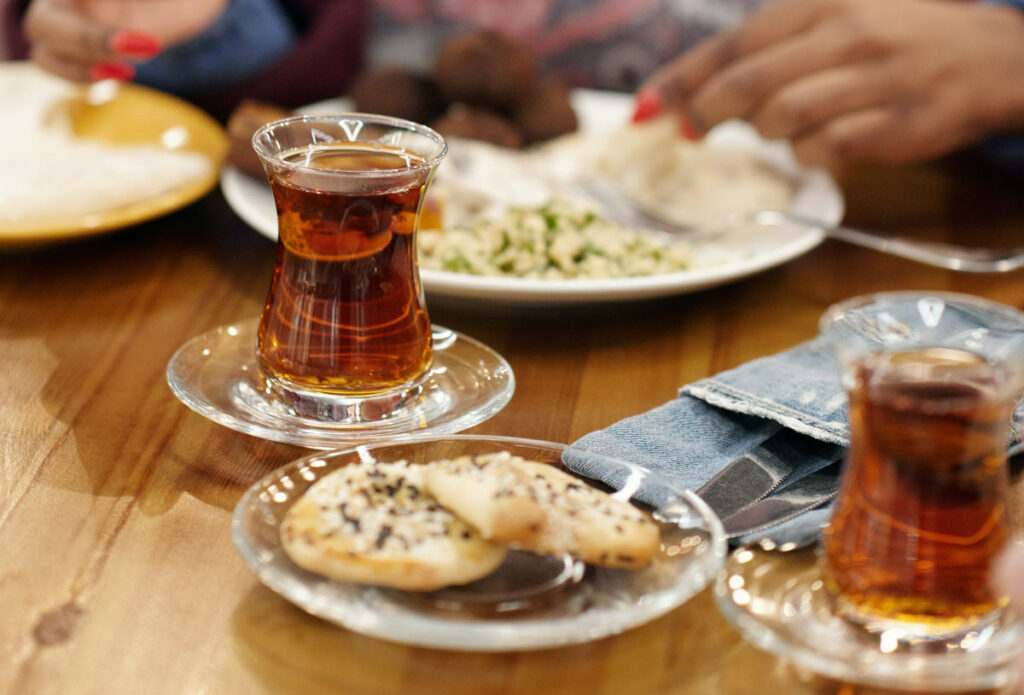 Food etiquette in Turkey
When invited to dinner in Turkey, one should be punctual and remove shoes when entering the home.
It is customary to bring a gift for the host. If there are children in the home, one should bring a small gift for them as well, like a piece of candy or a small toy.
The host will direct the guests as to where to sit. Once the host serves the oldest man at the table, everyone begins eating,
Turkish people typically hold the knife in their right hand and the fork in their left.
Throughout the meal, the host will likely fill and refill the tea several times; however one must not refill his or her own cup. It is important then to be aware of the cups of those seated close by and refill them as necessary.
Thank the host after the meal, saying "eline sağlık", which is a compliment meaning "bless your hand" directed to the person who cooked the food.
Turkish food by region
Turkey is often divided into seven regions, each with unique soil and climate. These are Marmara Region, Aegean Region, Mediterranean Region, Black Sea Region, Central Anatolian Region, Eastern Anatolian Region, and Southeast Anatolian Region.
When kids learn about Turkey for a unit study or as a part of a Middle East unit study, it may be helpful to take a look at some of the regions, depending on what your time allows. Here are a few regions broken down.
Black Sea Region
Turkey's northern coast has a cuisine that is rich in seafood, and a favorite is anchovies, called hamsi.
The local kitchens are famous for main dishes like dolma, which means stuffed. You will find eggplants, grape leaves, peppers, and more filled with meat and rice, then baked.
This region is also the home of a form of Turkish pizza, called pide.
Aegean Region
People who reside in this warm area of Turkey's western coast are known for their simple cuisine, which is rich in rice and grilled seafood.
The climate is perfect for growing olive trees, and olives are served with many simple dishes, including bread and eggs, even for breakfast.
Southeast Anatolian Region
This area in Southeast Turkey is the place where the famous Turkish dessert of baklava originated.
The diet is rich in meat, and meat dishes (called kebab) and a garlic yogurt sauce (cacik) are served in kitchens and restaurants all over this region. This region is home to the thin and crispy meat and vegetable-topped flatbread called lahmacun.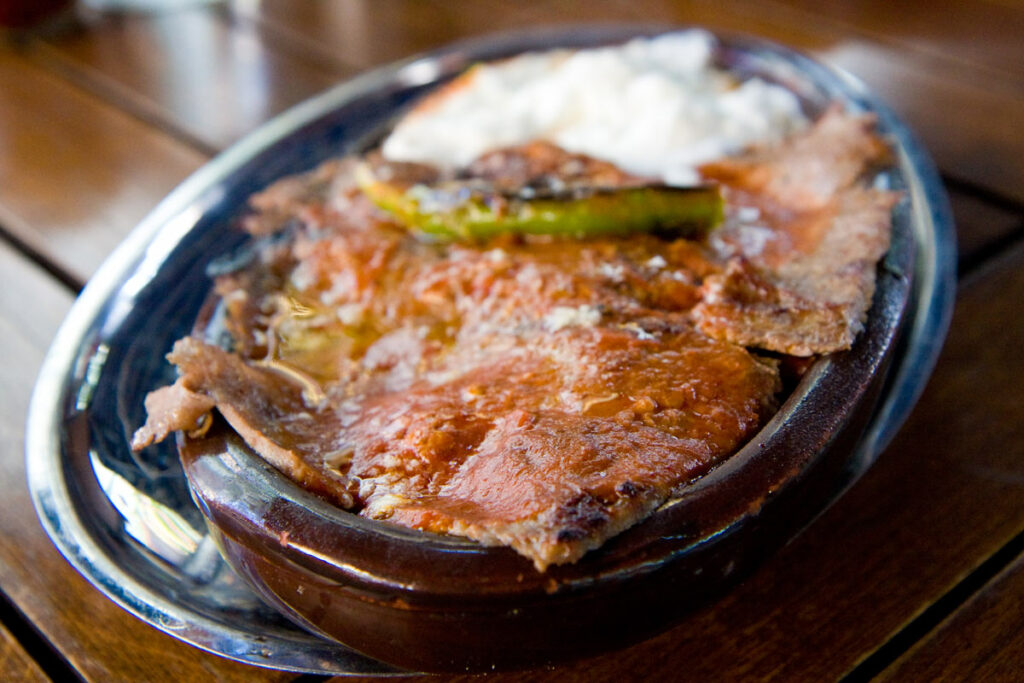 Some holidays in Turkey
Holidays are a great way for kids to learn about Turkey. Some, or all, of these holidays may be new to your students. And learning about the customs attached to these special days is a fun way to dive into the culture.
Victory Day (Zafer Bayramı, August 30)
Victory Day is the day that the Turkish people celebrate winning their independence from Greece, which invaded Turkey after World War I.
Turkish people celebrate Victory day with military parades and laying wreaths on the graves of fallen soldiers.
People fly Turkish flags, dress in elaborate costumes, and hold feasts. The meals consist of soup, rice pilaf, and a dish similar to fondue called milhama, which is a breakfast dish of cornmeal, butter, and cheese.
Ramadan (Ramazan, date varies)
In the Muslim majority nation of Turkey, most people observe the 30-day period of fasting known as Ramadan.
People do not eat or drink anything from sunrise to sunset. They eat an early morning meal called suhur, which usually consists of eggs and a special bread known as ramadan pidesi, a soft hand-shaped flatbread.
After sundown, the dinner known as iftar is served. First dates and water are eaten in accordance with religious tradition. Then a feast of Turkish favorites is enjoyed, beginning with a soup like ezo gelin corbasi, a red lentil soup.
Main dishes are often made with lamb, like hunkar begendi, a roast lamb stew served over eggplant, or lamb and vegetable kebabs.
Seker Bayrami / Ramazan Bayrami (date varies)
This is a three-day festival that celebrates the end of the fasting month of Ramadan (the feast is called Eid al-Fitr in Arabic).
On the first day, sweets are often given, and children go door to door kissing the hands of elders and receiving candies or coins.
A favorite traditional dish served in Turkey during this festival is baklava, a layered dessert made of honey, nuts, and thin filo pastry. Another is Gullac, a dessert made from a special flour and cornstarch dough that is soaked in warm milk and sugar and then covered with nuts and dried fruit.
Feast of the Sacrifice (Kurban Bayrami)
This is the most important Islamic festival of the year (Eid al-Adha in Arabic). It is when Turkish Muslims remember the day that Abraham was willing to sacrifice his son, as recorded in the Bible and the Quran.
The 4-5 day festival begins with men attending a special morning prayer. When they return home, they choose a healthy male animal to sacrifice, usually a sheep. They share two-thirds of the animal with family and friends in a simple meal of grilled meat and bread or rice. They give the last one-third to the poor.
Ideas for kids to celebrate Turkish culture at home
As a part of your homeschool Turkey unit study or as a supplement to your child's Turkey unit (or Middle East unit) at school, try some of these ideas at home. When kids learn about Turkey, using hands-on activities helps them to remember what they have learned!
Learn a traditional Turkish dance
Try making a Turkish dessert like baklava. (While it looks impressive, it is a very easy dessert for kids to make while learning about Turkey!)
Take a virtual tour of the historic architecture in Turkey, like the Hagia Sophia and the Blue Mosque.
Make homemade doner kebab – In this recipe, you don't need a vertical rotisserie.