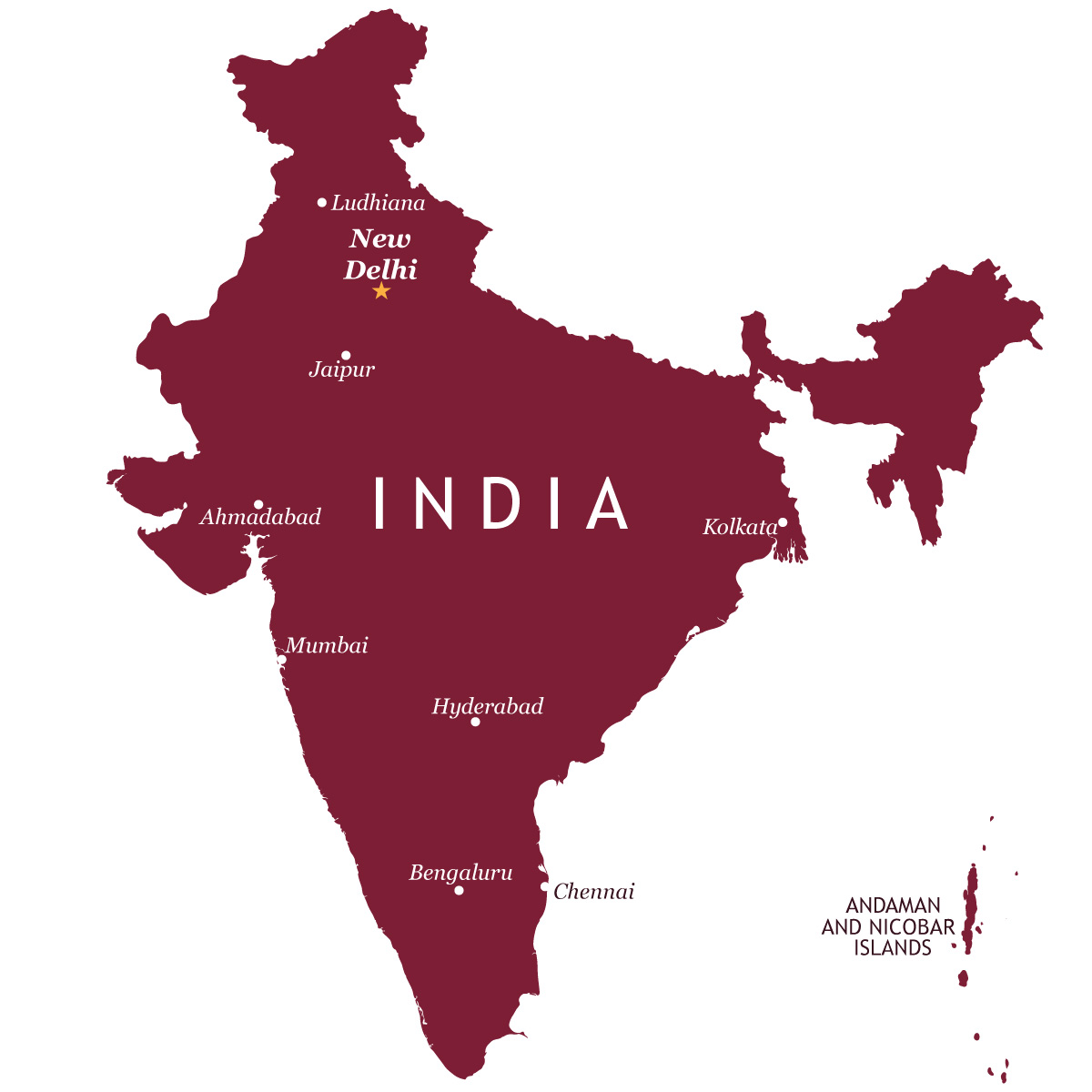 India
India is a large country in southern Asia. The cuisine varies greatly from region to region, but makes heavy use of spices and is known for its curries. Grab your kids and let's learn about India!
QUICK STATS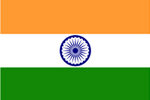 1,269,219 sq mi (3,287,263 sq km)
Parliamentary Democratic Republic
India is centrally located in southern Asia. Bordered by China, Nepal, and Bhutan to the north; Myanmar, Bangladesh, and the Bay of Bengal to the east; Sri Lanka and the Laccadive Sea to the south; and the Arabian Sea and Pakistan to the west.
A brief history for kids to learn about India
The Indus Valley civilization in Northern India are the first recorded people on Indian soil. This civilization was established around 3000 BC. They flourished for hundreds of years and built large cities.
It began to collapse around 1500 BC, as tribes began to arrive from Central Asia.
In 323 BC, the Mauryan Empire was founded in India. It soon became one of the largest and most powerful empires in the world.
In 319 AD, the Gupta Empire rose to power. This began India's Golden Age, during which the people made many advances in math, science, and art.
After the fall of the Gupta Empire in 564 AD, India experienced many years of war and instability.
Around 1000 AD, the Turks and Afghans invaded India. They established the Dehli Sultanate in 1210 AD.
The Mughal Empire rose to power in 1527 AD, bringing peace and prosperity to India for several hundred years. During this time, European explorers began to arrive in India and soon established trade.
The British founded the East India Company in order to claim sole rights to trade, but by 1858 the British took control of India and established the British Indian Empire.
After many years of conflict and protests, India finally became independent in 1947.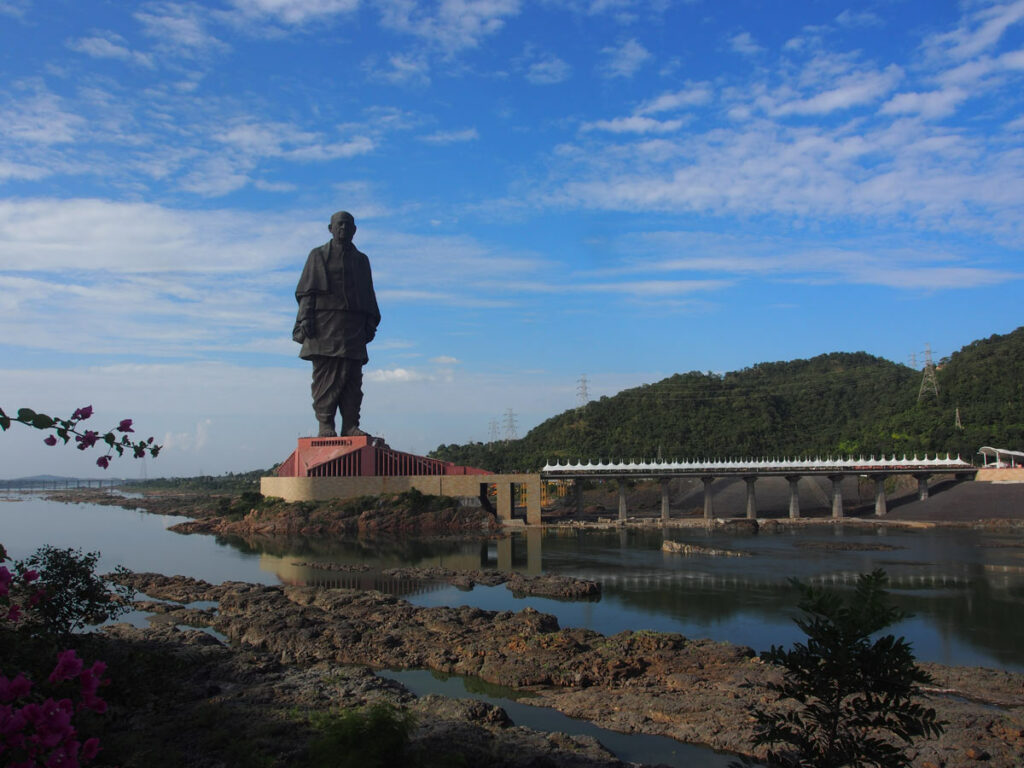 Fun facts about India for kids
The tallest statue in the world, the Statue of Unity, is located in western India (Gujarat, India).
Shampoo originated in India.
India was the first country to refine and consume sugar.
Indian food
Indian cuisine is a blend of flavors and cooking methods that have been shaped by the many cultures and civilizations on Indian soil. The cuisine is rich in spices, such as cinnamon, ginger, curry, and coriander.
Indian food differs greatly from one region to the next; the crops, culture, and climate play a role in what staples are available.
Religious beliefs and social classes also influence Indian food traditions. India is a very diverse nation and its unique and varied cuisine is a major part of its rich culture and heritage.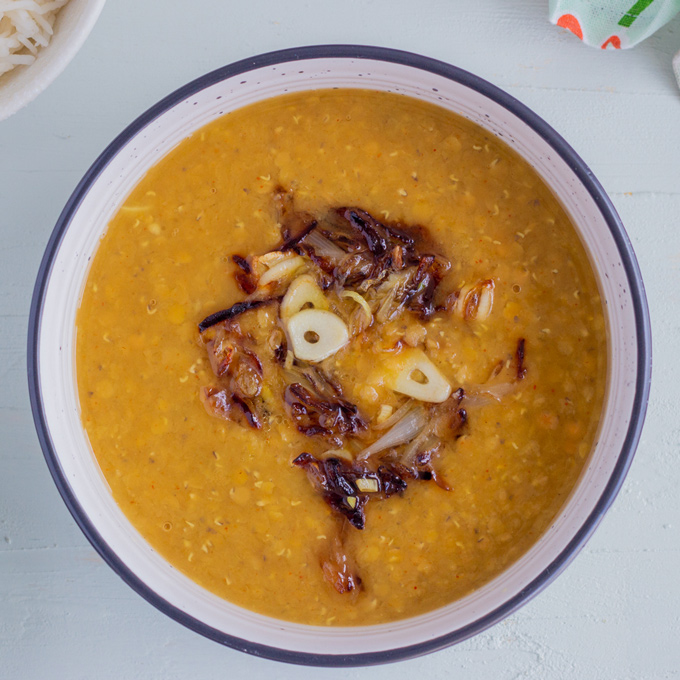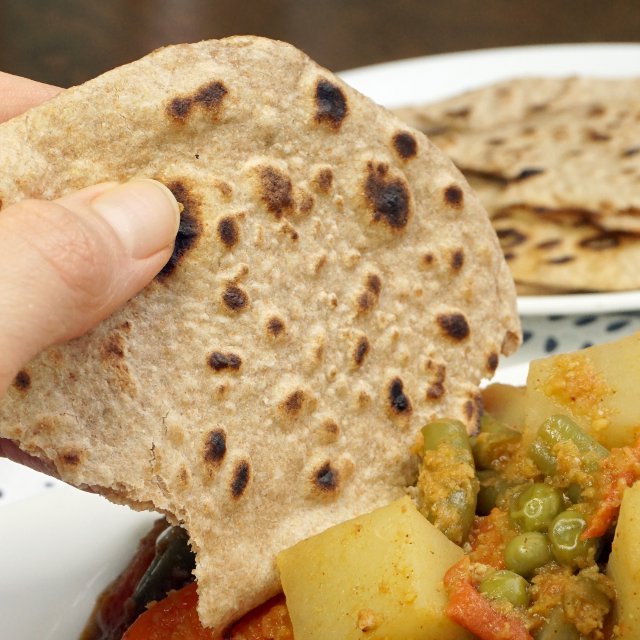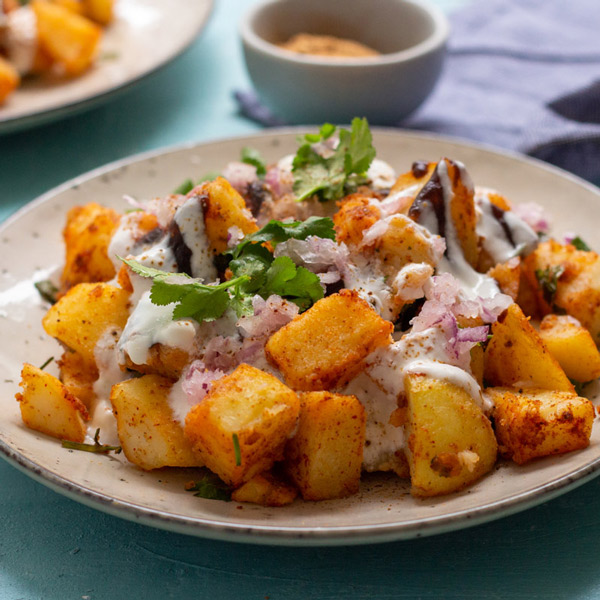 Meals in India. What do Indian people eat?
In India, people eat three meals a day, and usually a light snack or two in between. Indians eat most meals at home with family. 
Sometimes meals take place at a table, but many families eat sitting down on floor mats. Green tea or chai tea often accompany meals.
Since many people in India are Hindu, meals typically don't contain pork or beef and are often completely vegetarian.
Meals in India are typically not served in courses. Many different flavors and textures are all served on one large platter (called a thali).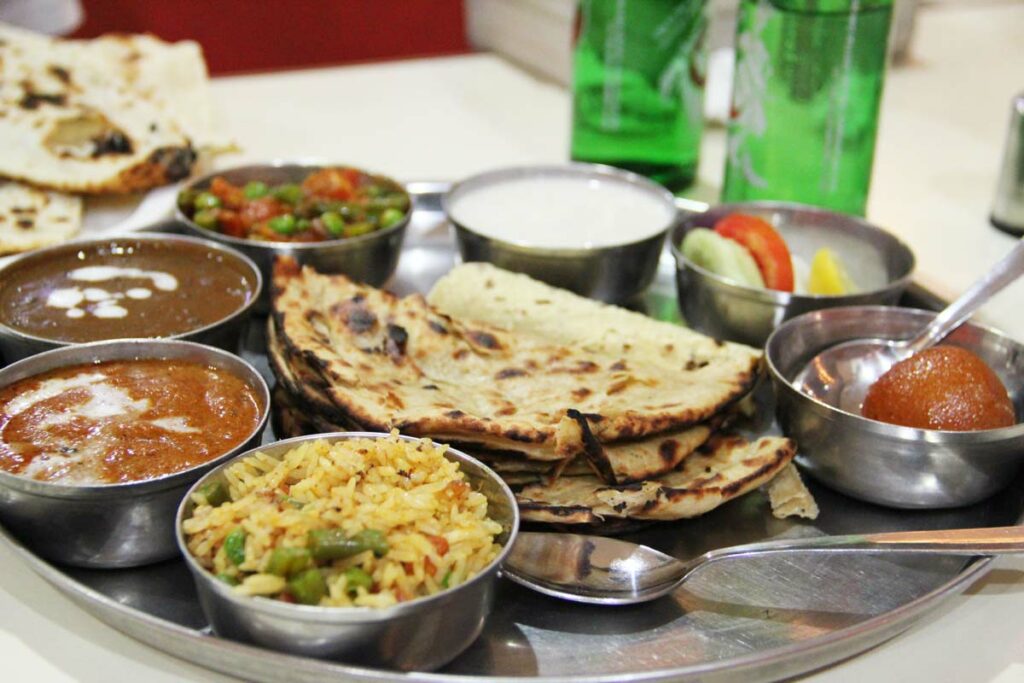 Breakfast ( सुबह का नाश्ता, [subah ka naashta])
Breakfast in India is typically eaten from about 8 am to 9 am. Popular choices are flatbreads (whose ingredients vary by region) like paratha (a wheat flour flatbread often stuffed with various fillings), roti/chapati/puri (similar wheat flour flatbreads cooked in different ways), or idli/dosa (fermented lentil and rice cakes and flatbread). The bread would likely be accompanied by a vegetable curry.
Lunch (दोपहर का भोजन,[Dōpahara kā bhōjana])
Lunch is typically served from about 12:30 to 1:30 pm. It usually consists of rice or flatbread (depending on the region) with a main meat or vegetable curry or daal (lentil dish).
Lunch may also include a salad and some chutney (sauce).
Dinner (रात का खाना, [Rāta kā khānā])
Dinner is generally from 6 to 8 pm. It is the main meal of the day eaten with the whole family.
On the dinner table, you will find a couple of vegetable curries, possibly a meat dish, daal (lentil dish), rice or flatbread, a salad, raita (yogurt), achar (pickles), and chutney. These dishes will all be set on the table to enjoy.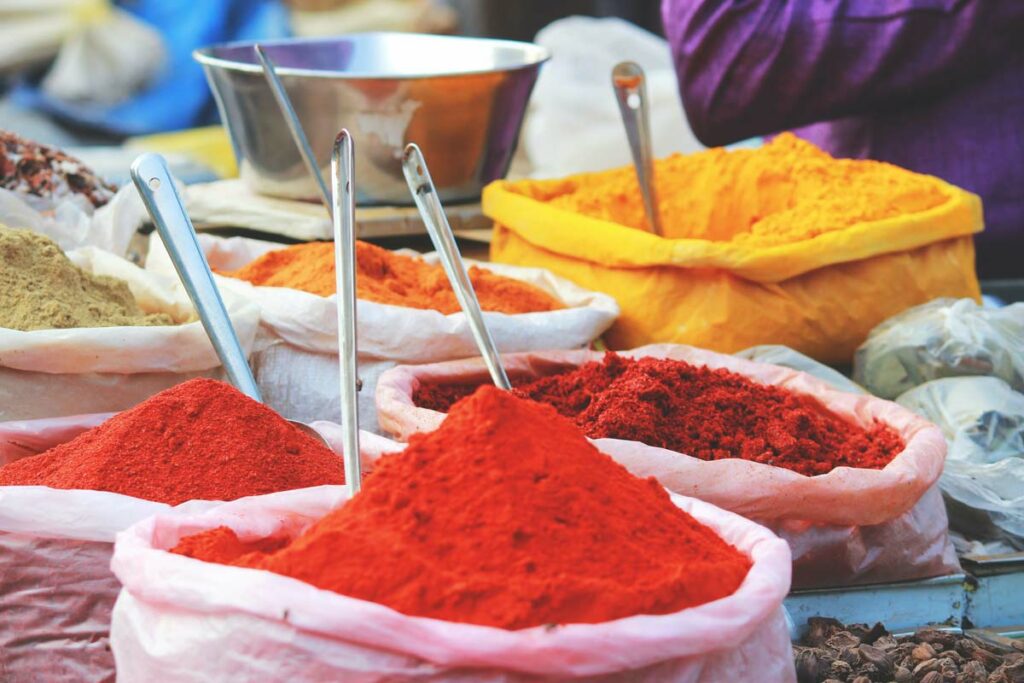 Food etiquette in India
When invited to a meal in India, it is customary to arrive up to 20 minutes after the scheduled time.
One must be sure to wash and dry their hands prior to eating. When the meal begins, the host places all of the food on the table or floor mat at once, and guests may fill their own plates.
Cutlery is generally not used. But, you must be sure to always serve and eat the food with your right hand. Even left-handed guests must never eat using their left hand.
One should be sure to finish all the food on his or her plate. Taking seconds is considered polite.
The meal is over when the oldest guest finishes eating and gets up from the table or mat. One should be sure to thank the host upon leaving.
Indian food by region
Indian food is very region-specific. For example, while Indians across the country eat curries, they vary in heat, consistency, and ingredients.
And, India can be divided into many regions. There are so many regions, when kids learn about India it may be helpful to focus on a few.
Here are a few regions of India by their food to get you and your students started.
Punjab and North India
In Punjab (the northern Indian state bordering Pakistan, where Ludhiana is the largest city) and more broadly in Northern India, meat and bread are common staples.
Punjabi people often cook both meat and bread in a clay charcoal oven called a tandoor. Tandori chicken and naan flatbread are two favorites.
Meals include wheat flour flatbreads like roti and paratha. Rice is uncommon. North Indian curries are typically thicker with a creamy sauce and only moderate heat.
In addition to the bread, meals include daal (a lentil dish), yogurt, and a curried vegetable or meat dish.
This region uses a lot of dairy in the form of yogurt, paneer (a mild soft cheese), and ghee (clarified butter).
The people of Northern India often use paneer in curries. For example, paneer makhani (paneer cooked in a creamy tomato sauce with garam masala). Matar paneer (a spiced tomato sauce over peas and a soft cheese), saag paneer, and palak paneer (both curries with paneer cheese and spinach in a creamy sauce) are others.
Tikka (spiced grilled skewers of paneer or chicken), butter chicken (chicken in a tomato and butter sauce), and chana masala (chickpeas simmered in a tomato and onion sauce) are well-known curries from this region.
Also common in this region is korma (a coconut milk curry that could include chicken or lamb or other protein).
Samosas (fried pastries often stuffed with potatoes) and lassi (yogurt drinks) also come from this region.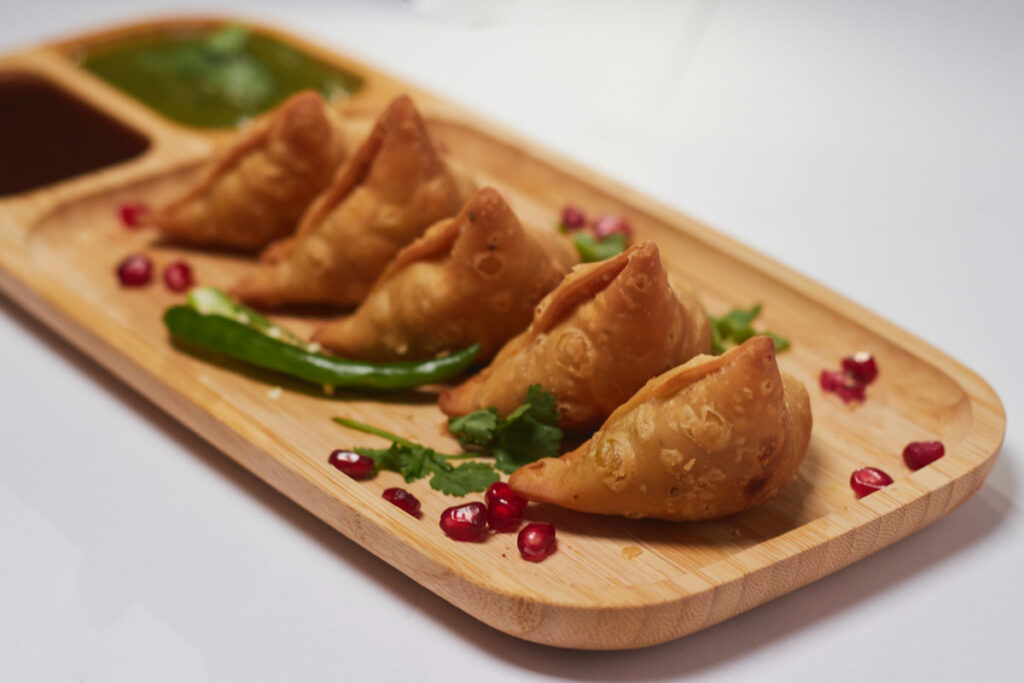 Rajasthan
South of Punjab, but still on the Pakistan border, is Rajasthan. (Rajasthan's capital is Jaipur.) This state has a harsh climate. Because of this fresh vegetables are hard to come by.
Rajasthani cuisine is full of dried foods or naturally preserved foods, often with a lot of ghee (clarified butter) rather than fresh dairy.
Their curries are bright red, but not as spicy as in other regions.
Ladoo is a famous treat from this region.
West Bengal
In this semi-coastal region in the east of India (that borders Bangladesh), Bengali people enjoy rice and fish dishes (while not entirely coastal, the region has lots of rivers and lakes).
The people of this region often cook their fish in unique ways. A regional favorite is hilsa, in which they cook fish wrapped inside of a pumpkin leaf.
Local people are famous for their sweets made with curdled milk. These include cham cham (milk solids shaped into cylinders and stuffed with coconuts or dried fruits). Rasgula (milk solids covered with sugar syrup) is another.
Ras malai (sweet cheese dumplings in a cream sauce) and mishti doi (a sweet, baked yogurt) are yet others.
South India
In South India, you find a lot of rice. On the coast, you also find an abundance of coconut and seafood dishes.
In this region, you find some of the hottest and spiciest of all Indian food, as well as curries that are drier and more stew-like in consistency.
Biryani is a common rice dish from this region.
You find meals accompanied by idli (steamed rice batter cakes) and dosas (fermented rice and lentil pancakes). The dosas are often filled with a curry mixture, as in masala dosa.
Kerala
Included in South India's cuisine is the southwestern coastal region of Kerala. This region has a long coastline on the Arabian Sea, as well as mountain ranges further inland.
Popular dishes in this region are fish moolie (a fish stew of curry, coconut milk, and spices) and Malabar fried prawns.
Another regional treat is rice puttu. This is a pudding made from rice, ground into a powder, and steamed inside a bamboo shoot.
Goa
Goa is another coastal, southwestern region (further up the coast from Kerala, but south of Mumbai). Goan food has a heavy Portuguese influence. The Goan people like their recipes heavily spiced with curry seasonings and heat.
Most Goans are Catholic. So, the people of this region eat pork and beef more often than people in the rest of India.
Chana ros (a dish made of white peas and curry) and egg drop curry (a rich spicy soup made of broth and eggs) are favorites in the region.
Here you will also find Goan fish curry (spicy fish in coconut milk), vindaloo (a tomato and meat curry based on a similar Portuguese stew), and khatkhate (a mixed vegetable curry).
Learn about holidays in India
Holidays are a fun way for kids to learn about India. These festivals may or may not be familiar, but they are a great way to start learning about India and its culture.
Tiranga Bojan (Republic Day, January 26)
This is the day the Indian people celebrate the adoption of their constitution. There are parades and a speech from the president. Restaurants and kitchens all over India serve foods in the colors of the Indian flag.
Dishes from tricolor pulao rice to desserts made from bananas, oranges, and mint show patriotic pride.
Holi (March 29)
This Hindu festival celebrates the triumph of good over evil. It is a vibrant festival where people spray each other with water and often colored paint as well.
On this day, people eat a deep-fried, filled coconut pastry called gujiya made just for the occasion.
Also served for Holi is thandai, a special drink made with almonds, fennel seeds, and poppy seeds.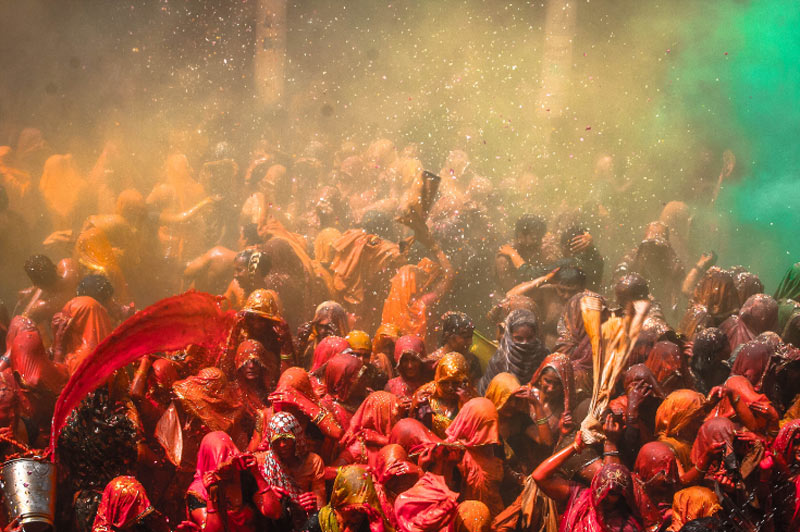 Ganesh Chaturthi (late August-early September, depending on the moon cycle)
This ten-day festival honors the Hindu elephant-headed god Ganesha. During this celebration, many people make brightly painted images of this god and display them in homes and public places. At the end of the festival, the people parade these images through the streets and immerse them in rivers and lakes.
People prepare a popular food called modak during Ganesh Chaturthi. Tradition says this is Ganesha's favorite food. It is a small dumpling made from a flour and milk dough. The dough is crimped in various patterns and stuffed with a sweet coconut filling. People make this basic recipe in many flavors, colors, and patterns throughout India.
Diwali (Fall, date varies)
This five-day festival is the biggest celebration of the Indian calendar. It is a Hindu celebration of Lord Rama returning to his kingdom after exile and defeating the evil spirit Ravana. However, while it is a Hindu celebration, other religions celebrate it as well.
Often called the "Festival of Lights," it is a celebration of the victory of light over darkness. People celebrate by lighting lamps, fireworks, and sparklers. They also give gifts and hold feasts with many delicious treats.
Traditional favorites vary by region, but samosas, (crispy fried hand pies with a savory filling) and paneer tikka (paneer cheese cubes coated with curry spices and grilled) are some loved dishes.
Traditional sweets are gulab jamun (a ball of mashed khoya with lemon and butter, rolled in a thick sugar syrup) and laddu (little round candies made with flour, ghee, and sugar).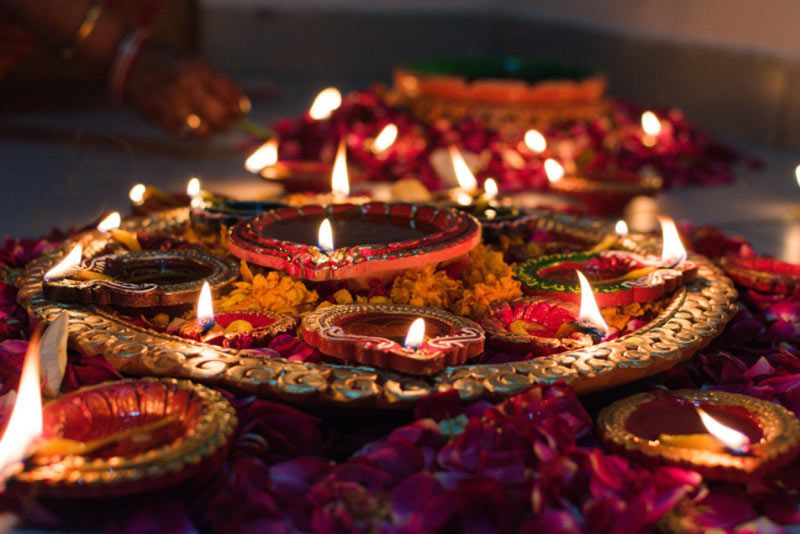 At home ideas for kids to learn about India
As a part of your homeschool India unit study or as a supplement to your child's India unit at school, try some of these ideas at home. When kids learn about India using hands-on activities they can experience the culture firsthand! Often this helps them remember what they learn in their geography unit study.
Try out an art project for the festival of Ganesh. Start with a template and make a painting, charcoal, or even chalk image of the elephant-headed god for yourself.
Make your own paper lanterns for Diwali. (When you light them, be sure to use battery-powered tea lights.)
If you enjoy Indian food, try making one of your favorites at home. If you haven't tried Indian food, try this Madras Beef Curry or Vegetable Korma – two easy, not spicy, curries. Have your Indian meal on the floor! Try eating with your hands.
Try your hand at making paneer cheese. Eat it alone as a snack, or use it in a North Indian curry or dish.